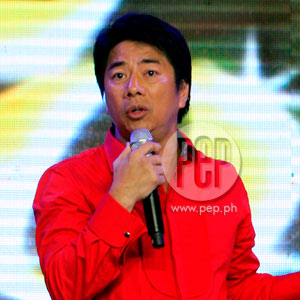 ---
The fallout of the March 12 episode of Willing Willie has reached the all-important advertising community.


In that episode, six-year-old Jan-Jan performed a "macho dance" multiple times. He was seen shedding tears while the audience and the host were caught by the cameras cheering, applauding and laughing. (CLICK HERE for related story.)


John Silva, former senior consultant to the National Museum, has been writing to several individuals to whip up support for an ad boycott of the TV5 variety and game show hosted by Willie Revillame.


Silva is one of many letter writers, text senders, bloggers, and columnists who have expressed anger and disgust over the episode. Invariably, they have charged the show and its host with having "poor taste," at the very least, and having committed "child abuse," at the very most. (CLICK HERE for related story.)


Even government agencies like the Department of Social Welfare and Development (DSWD) and the Commission on Human Rights (CHR) have weighed in with their serious objections and proposed sanctions. (CLICK HERE for related story.)


Meantime, the Movie Television Review and Classification Board (MTRCB), which has direct authority over this issue, is holding talks with Wil Productions, producer of Willing Willie, on Monday, April 4.


The letter of John Silva to Tony Tan Caktiong was sent to several undisclosed recipients, including persons in Summit Media, under which Pep.ph falls. The letter, dated April 1, reached us this morning, April 2.


Silva's letter thanks Mr. Caktiong whose company, Jollibee, according to Mr. Silva, is withdrawing its Mang Inasal advertisement from Willing Willie in the coming days.
This is the full letter of John Silva to Tony Tan Caktiong:
"Dear Mr. Tan Caktiong,
"I just read from Pauline Lao of your Corporate Communications Department that Jollibee Mang Inasal will be holding off placements from the Willing Willie program within the week.
ADVERTISEMENT - CONTINUE READING BELOW
"I want to thank you for the very quick decision and response that your company made. Other companies are still holding off until the result of an internal Channel 5 investigation. It says to me that on the strength of the video segment alone, your company has acknowledged its deleterious effects on both viewers, consumers, and your own corporate credo.
"You were just as efficient in responding to our concern when I raised the placement of a Chowking food stand in Pila Plaza several years back. I knew that you would be as quick and judicious on this Jan-Jan incident.
"Your actions, being a major conglomerate, will have serious ripple effects on the other advertisers and on TV stations too. This may actually be the dawn of better TV programming thanks to your decision.
"If you have a chance check out the Face Book page called Shame on Willie. There are now hundreds of very grateful people all promising to have a Jollibee tomorrow. Instead of one, I'm having two Inasal thighs myself!
"Cheers,
"John L. Silva"
At press time, PEP (Philippine Entertainment Portal) was still trying to reach Jollibee's representatives.
Meanwhile, Wil Productions, which produces Willing Willie, has confirmed that Mang Inasal has pulled ads from the show, albeit temporarily.
In a text message sent to PEP before 1 p.m. Saturday, Jay Montelibano of Wil Productions said: "Yes we were aware that Mang Inasal would be putting on hold their current sponsorship since its owner Mr. Sia, called boss Vic [del Rosario] yday. They are not pulling out from the show but would just wait until the issue clears before they resume. Thanks for hearing our side."
Meantime, Willie Revillame is holding a press conference today, at 12 noon, at Annabel's on Tomas Morato, Quezon City. Present will be Wil Productions' executives and Jan-Jan and his parents.
ADVERTISEMENT - CONTINUE READING BELOW