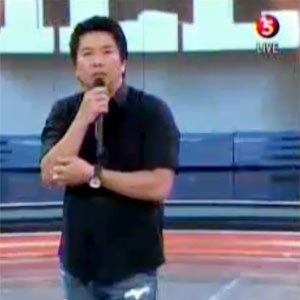 ---
The video has not only gone viral, there is a now Facebook page called "Para kay Jan-jan (Shame on you Willie Revillame!)."
Froilan Grate, an environmentalist and educator, started the site a week ago and as of this writing, the stie has 6,596 fans. His goal? "To stop the exploitation of children for the sake of entertainment."
Grate is referring to the March 12, 2011 episode of Willing Willie, where a six-year old boy named Jan-Jan was shown dancing "a la macho dancer" much to the delight of the host, Willie Revillame, and the studio audience.
However, the boy, as seen countless of times on YouTube, looked truly distressed because he was crying while he "entertained" Willie and the audience.
"I started the Facebook Page, so people will stand up and speak up when they see an injustice," Grate told PEP (Philippine Entertainment Portal) in a phone interview Saturday.
"Jan-jan provided a face for countless children and poor people who are forced by necessity to submit themselves into humiliation in exchange for quick cash," according to the Facebook page.
"In line with our goal to stop child exploitation and abuse in the media, please stop reposting and copying the CURRENT version of the video and other related videos of the incident on YouTube. Just log in YouTube, FLAG the videos and report as CHILD ABUSE. We are coming up with a video where his face is blurred," the site added.
PETITION. Grate, who is chairman of Add Up! Volunteers, a group he founded in 2003 with the goal of engaging the youth in active nation-building, has been a very busy advocate.
Two weeks ago, Grate passed around a petition asking concerned government agencies and advertisers to investigate the controversial TV episode.
It was addressed to the Commission on Human Rights, Department of Social Welfare and Development, Movies and Television Ratings and Classification Board, as well as the Philippine Association of National Advertisers.
ADVERTISEMENT - CONTINUE READING BELOW
The petition condemned "the blatant act of subjecting poor Filipinos—especially minors, a group that history has shown to be one of the most vulnerable sectors of our society—to humiliation in shows like these in exchange for some quick cash. Given the financial hardships that they have to endure, they often feel forced to do acts that violate their dignity as human beings in exchange for keeping body and soul together."
It also condemned "the host, not only for failing to stop the boy who was clearly uncomfortable with what he had to do, but more importantly for milking similar situations for the sake of selling the show and increasing its ratings."
It likewise condemned "the producers of the show and the management of TV5 not only for failing to act appropriately on this incident, but also for tolerating these kinds of shows, as well as the host's tasteless and humiliating antics."
The petition not only garnered 350 signatures, it got the attention of CHR Commissioner Etta Rosales and DSWD Secretary Dinky Soliman. Grate's group met with the commission, which issued a strongly worded statement calling the incident "criminal." Soliman wrote a letter to TV5.
According to a story which appeared on GMA7news.tv on March 28, 2011, "Soliman sent a letter to TV5 Chairman Manny Pangilinan asking for censure of Mr. Revillame and to stop having children on his show.
"'Persuading a little child to dance sexy adult dances in exchange for a measly sum, while he is being laughed at and ridiculed will definitely traumatize the child... There are limits to children appearing on television, and clearly, your 12 March 2011 episode did not respect the rights of the child and traumatized the six year-old boy,' said Soliman in her letter.
"She requested Pangilinan to disallow young children from appearing on Willing Willie or similar shows and that Revillame be 'rebuked for his insensitive and deplorable actions.'
ADVERTISEMENT - CONTINUE READING BELOW
"Soliman had acted on a letter sent by members of a Facebook page set up to protest the incident on Willing Willie entitled 'Para kay Jan-Jan (Shame on you, Willie Revillame!),' the GMA7news.tv report said.
Grate seemed satisfied with the official reactions: "The petition had done its job. But there were still a lot of people who wanted to sign the petition... they wanted to be counted. So we sent out a second petition, but this time the goal is to get more people aware of the cause."
The petition can be found at http://www.petitions24.com/child_abuse_on_willing_willie_show_of_tv5_by_froilan_grate
As of this writing, the petition has 1,963 signatures.
WRITING ADVERTISERS. Grate told PEP they have also been writing advertisers the past few days, asking them not to support Willing Willie.
He said they have received various responses, while some were still evaluating the incident or were waiting until after the MTRCB investigation. Others who are not advertisers of the TV show said they will not place ads in the show and will formally issue a memo to this effect.
Grate said they were very happy with the response of Jollibee Mang Inasal which has decided to pull out, albeit temporarily, from Willing Willie until the matter is cleared.
"If Jollibee can pull out ads, so can other advertisers," he said. "Yes, it's only temporary, but their action shows they recognize it's an issue that should be looked into."
Tomorrow, Sunday, Grate said he and his group, who are tentatively calling themselves "Movement to End Child Exploitation in Media," will again write advertisers asking them to pull out from Willing Willie.
"If they don't give us a definite answer by Monday, we will call on our Facebook followers to boycott their products," he said.
ADVERTISEMENT - CONTINUE READING BELOW
"We will go to supermarkets and hand out flyers which list the advertisers' products that support Willing Willie. We will ask shoppers not to buy these products. We will also go to communities and ask residents to sign petitions."
Does Grate, given his passionate campaign against Willie, have anything personal against the TV5 show host?
Grate responded, "I am not affiliated with with ABS-CBN or GMA-7. I have never met Willie Revillame. Hindi ako galit kay Willie. Galit ako sa ginawa niya. When I saw the video of Jan-Jan on YouTube, I said to myself, 'I have to do something.' The video is a reflection of Willie as a host, it reflects the priority of the show and the values and ethics of TV5."
Then he added, "But our fight is not against Willie, our fight is against child abuse."