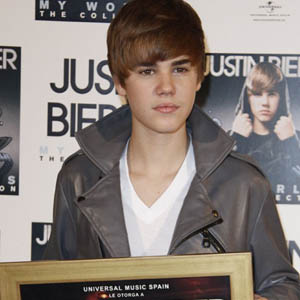 ---

Justin Bieber accidentally set his mother's hair on fire over the weekend.
The "Baby" singer was playing at the Berlin O2 World arena in Germany on Saturday (April 2) and he surprised mom Pattie Mallette by bringing her a birthday cake as she joined him on stage.
However, as she leaned over to blow out the candles, a few strands of her hair caught fire. Thankfully Justin was there to put it out.
He then told her: "Mama, I'll always be your baby."
After the show, Justin and Pattie both took to Twitter to write about the incident.
Justin, 17, said: "sick show in Berlin...brought @studiomama on stage 2 sing her happy bday but she lit her hair on fire with the candles. lol. i saved her. (sic)"
While Pattie wrote: "Thank u @justinbieber for the cake (& embarrassing me on stage lol)."
Justin is very close to his mother; recently he revealed how she has to approve his girlfriends.
The teen heartthrob—who is dating 18-year-old Disney star Selena Gomez—said: "I wouldn't bring home a girl unless my mom would approve. You don't bring the bad girls home to mom."