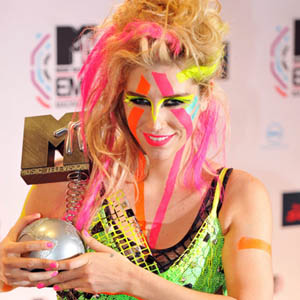 ---
Ke$ha wants to go skinny dipping with Britney Spears.
The two pop stars are both experiencing chart success with their respective singles "Blow" and "Till the World Ends" and Ke$ha is keen for them to celebrate in a unique way by going swimming without their clothes on, followed by a wild party.
She said: "We could go skinny dipping.
"We could have a party and it would be a dress-up-like-Ke$ha-or-Britney party. Either her place or my place, it doesn't matter."
But it seems Ke$ha's home would be the ideal place to have the party as she recently installed an underwater stereo at her Nashville pad.
She told People magazine: "I have a small, salt-water pool that has laser beams in it and a stereo so you can be under water listening to music. It's really magical."
As well as wanting to strip to go under water, Ke$ha recently revealed she uses her naked body to create art.
The "Tik Tok" singer has taken up painting in order to relax while on tour and she has now taken a new approach by using herself in her work.
The 24-year-old star said: "I have recently taken up painting as a way of killing time on tour.
"I got a big canvas, threw some paints down and then stripped off and rolled around on it.
"It's very liberating. And very, very messy."