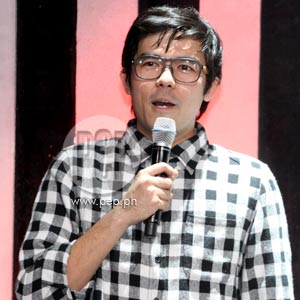 ---
Former Hale vocalist Champ Lui Pio never had a hard time relinquishing the spotlight and working quietly in the background to help new artists penetrate the cutthroat music business.
Although Champ still remains passionate about his career as a musician—having launched his debut solo album late last year under PolyEast Records—the singer-songwriter told PEP (Philippine Entertainment Portal) that he enjoys his newfound role as a manager, record producer, and label founder.
"After Hale disbanded [in 2010], I was trying to find out what God has in store for me. I tried hosting, medyo okay lang, and then I did my solo thing, which was really okay. But then after a while, I was really looking for that drive, you know, that spark that would really give me that sense of mission," confessed Champ.
The answer came in the form of a young electro-pop musician named Rez Toledo, a.k.a. Somedaydream.
"One day a friend of mine told me to check out this guy on YouTube and MySpace. So, I did, and when I saw his performance it was all-original. I was really in awe, like, 'Wow, ang galing nitong batang ito!' and he was only 19 at that time," recalled Champ.
"I had a short meeting with him and I told him that I want to produce his album and then eventually I thought, 'Why not manage him at the same time?' And then after a while, I thought 'Why not put up my own indie [independent] label since the music industry needs a different approach, kasi it's been struggling for the past few years.'
"So, I thought of micro-managing a label and then 'yon, I'm starting off with this artist and I have two more in line but not until we release the album. 'Yon muna! I'm starting off one step at a time."
ADVERTISEMENT - CONTINUE READING BELOW
Champ, along with a few "silent partners," chose the name Mecca Music for their record company.
FRIENDS LEND SUPPORT. PEP visited the music video shoot of "Hey Daydreamer"—which is the first single taken from Somedaydream's upcoming album—held at the Mahogany Place 3 village in Taguig City.
"We weren't supposed to shoot right away. But then we had to kasi MYX started playing the live performance of Somedaydream at the MYX Music Awards and bigla siyang nasa countdown na, and on radio kasi nag-top sa OPM [charts] 'yong song na 'Hey Daydreamer.'
"So, I was thinking we really need to come up with a main video soon. I talked to some director friends of mine and we all decided to have two directors in this video, one is Bianca [King]... We just all collaborated on the concept which is young, fun, and having a good time," revealed Champ.
Jasmine Curtis Smith played the lead part in the video. But Champ's friends from show business also participated behind the scene, like actresses Rhian Ramos, who served as the stylist, and Bubbles Paraiso, who applied makeup on Jasmine and Rez.
The house and garage, which was used as the setting of the music video, belong to construction magnate Victor Consunji and beauty queen-actress wife Maggie Wilson.
"Well, it's a good thing that we're all friends and Bianca is doing a great job convincing her fellow artistas to diversify—meaning, do not just concentrate on being an actress but try to evolve also as an artist.
"Just like what she's doing, she's trying to direct, she's trying to make it into filmmaking. So, she's convincing the others, like Bubbles [Paraiso], to exercise what you feel strongly about," Champ remarked.
We asked Champ about the real score between him and Bianca. The two have reportedly broken up since last year, although the sight of them working together harmoniously in a project makes one wonder if they are indeed still together.
ADVERTISEMENT - CONTINUE READING BELOW
Champ politely declined to comment about his current relationship with Bianca.
"It's complicated!" laughed the amiable singer-songwriter.
FOCUS IS ON MUSIC. Champ and his brother Chino Lui Pio signed a three-year management contract with Viva Artists Agency last year. The contract reportedly covers movies, television, and endorsement deals.
The ex-Hale singer attended acting workshop classes. Although he enjoyed the process, Champ admitted he's still feeling reluctant about embracing an acting career to complement his music-related projects.
"I'm still under contract [with Viva Artists Agency] in terms of being a multi-media artist. But for now, I'm focusing on my label and music. I think this is where I belong—music is where I belong."
Is he closing his door on the possibility of being an actor?
"It really depends," replied Champ. "I'm not that sure yet. But this feels right—producing and managing."