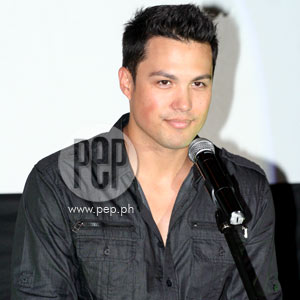 ---
Bruno Mars isn't the only artist to watch on his two-day concert this April 7 in Cebu and April 8 in Manila.
Doing Bruno's front act is half-Filipino Hollywood actor Michael Copon.
Michael's paternal roots are in Rosario, Salinas, in Cavite. He grew up in North Virginia where his grandfather was part of the US Air force Navy. He moved to California in 2001 when he turned 19.
HOLLYWOOD CAREER. "I was in my truck for about five and a half months before I booked my first job," Michael said Tuesday, April 5, in his press conference at The Establishment in The Fort, Taguig City.
That first job was playing the role of Lucas Kendall a.k.a Blue Ranger in the famous action-fantasy TV series Power Rangers.
"That was my first audition. And then I walked in... I didn't have any shoot list, no resumé. And I did the auditions. They were looking for a Caucasian like James Dean type. So when I walked in, they didn't know what I was.
"So, [they asked me], 'What are you?' They say, 'Ethnic?' 'cause they don't know what my nationality is. So I said, 'I'm a Filipino.' And they are like, 'What is that?' I wanted to tell them, 'It's there on the map! You went to school?" Michael recounted, laughing.
The 28-year-old Hollywood actor continued, "But instead I told them, 'Filipinos are from the Philippines.' And then they told me, 'Oh, my god, cool.' So, I'm the Filipino James-Dean type and they hired me right there and then."
Michael thought having a Hollywood career would be easy.
"And then after that, I kept on auditioning and auditioning and auditioning until three years. And then, I got One Tree Hill," Michael said.
He plays the role of Felix in the American TV series. He entered the show on its 2nd season in 2004. This brought about many big opportunities for Michael: interviews, magazine features, and other mainstream television series.
ADVERTISEMENT - CONTINUE READING BELOW
"After that I got featured in People magazine as one of the Hottest Bachelors and got to do CSI Miami and the CBS remake of Hawaii 5-0," Michael said, smiling.
However, he had his own list of frustrations. The biggest was his failing to land the role of Jacob in the world-famous Twilight.
He was originally cast to play the role of Jacob in the Twilight sequel, New Moon.
What happened was, according to Michael, "Originally, the first director was fired, and then the one who replaced him wanted to keep the original cast."
He said the original director offered him the role.
"You won't know if it's [movie] gonna big or not. They just say, 'Hey! It's gonna be about vampires and werewolves. But when I first read the script, I loved it, so I said yes! I never had a movie about vampires. And in the book, Taylor grew up around eight inches, so it kind of made sense. I was excited to play that part," he said.
"Well, things like that happen," Michael shrugged in resignation.
Aside from that, he was also an inch close to getting the role of Troy, played by Zac Efron in High School Musical.
"That we did audition for," Michael narrated. "After they have narrowed it down to like five or ten people, it was just me, Zac, and this other white guy.
"I was the only one who wasn't white. After we did the singing and the dancing, the director narrowed it down to the last two or three.
"And then the other guy got kicked out!" Michael blurted out.
Continuing his story, "And so it was just me and Zac. And so in the finals, it was just me, Zac, Vanessa [Hudgens], and Diana Degarmo—she was the other option for the role of Gabrielle.
ADVERTISEMENT - CONTINUE READING BELOW
"So they put us in pairs. And I looked so tall beside Vanessa! Zac is like around five feet and I don't look 15 or 16!"
Amidst all these frustrations, he tries to take things positively.
"Everyone does [have frustrations]. Each has their own time and you just need persistence and perseverance, and you gotta continue to strengthen your tools as an actor, as a singer," he asserted.
ON SINGING. In 2005, Michael bested eight other celebrity contestants in the VH1 reality TV show, But Can They Sing?
After which, he went on to writing and producing his own music.
How does he start his writing process?
"I pretty much start with... like in the song "Hey Yo!" I was walking in the street and then I went home and did the melody and then made the lyrics around the melody.
"I produce the beat first and then I'm working on the piano.
"And then, for the dance music, I kind of focus on the melody because people don't really listen to the words," he chided.
Asked where he might have gotten his musical talents, Michael immediately zeroed in on his "dad's karaoke machines."
"I can say that I got my talent from my dad only because we always have karaoke machines. No one from my family sings. I am the only one. I didn't do anything to develop my voice. But basically because my dad has karaoke machines that I got to play with them," he said.
PROUD TO BE FILIPINO. Michael is proud of his Filipino roots.
"Basically, the good thing with Filipinos is their being polite and having respect," he said with much pride.
He added, "That means a lot and we have managed to stay humble and stay down-to- earth and I think that is the greatest things that we have. We know how to stay grounded and we know that family comes first."
ADVERTISEMENT - CONTINUE READING BELOW
He recounted an incident where he showed how much he values his family.
"One time, I had to spend 50,000 dollars to go home for my brother's graduation because that is more important to me than to make money. For me, family is the most important thing," he declared.
FILIPINOS IN HOLLYWOOD. Michael's mood visibly changed when PEP (Philippine Entertainment Portal) asked about conditions surrounding Filipinos working in Hollywood.
He confirms the existing discrimination in the roles made available to Filipinos and, as he puts it, to "ethnic groups."
"I feel there is discrimination, but not just for Filipinos, but for any ethnic group.
"It's tough to look for roles there, especially for Filipinos.
"If they are looking for Asian, they go for more like Chinese, someone looking Asian Asian," he said.
With much conviction, he said, "Being a Filipino in Hollywood is very hard. It is not that easy."
"Some don't even promote that they are Filipino. It's not that easy getting a role if you are a Filipino. You get roles like a Spanish guy... So most Filipinos don't understand that.
"But I'm proud to be Filipino and this is my way to show that I am," he said.
IMPRESSED BY SARAH GERONIMO. Michael also noted how impressed he is by the talents of Filipinos he has met here.
He singled out Pop Princess Sarah Geronimo as someone he would want to work with someday.
"I want to be paired with Sarah Geronimo. I think she is really talented," the Hollywood actor said.
And added, "Or someone like Anne Curtis."
Michael has gone out with Anne, Vice Ganda, and Solenn Heussaff for a night-out recently along with some of his friends.
As for Sarah, Michael said he hasn't met the Pop Princess personally.
ADVERTISEMENT - CONTINUE READING BELOW
"Actually, I've seen a lot of her pictures around. And I saw her a lot of times in TV.
"She stands out a lot to me.
"She is very endearing on screen.
"I feel like she is so successful and that women wanna be like her and me wanna be with her. And I feel like she has a winning element," Michael said of Sarah.
He dreams of producing a film which would cast Sarah and other Filipino actors.
"My goal is, basically, when I come here—as part of the Young Entrepreneurs in Hollywood, being an actor, singer, and producer—my goal is to bridge Hollywood with the Philippines. So that more artists here in the Philippines would be able to be in Hollywood.
"My goal is do like a Slumdog Millionaire for Hollywood but with Filipinos in it. Like Sarah Geronimo and Jericho [Rosales]. I like Jericho, he is good. And Anne Curtis. And then me and Dante Basco, and then do a big-budget film.
"My goal is bring the big-budget films here and then pay the actors more. More of like a big-budget film here in the Philippines. I wanna be one of the pioneers to do that," a smiling Michael said.
HE IS SINGLE. On another note, Michael is not only talented, he is undeniably good-looking.
Asked about him and Kim Kardashian, his co-star in the TV series Kourtney and Kim Take New York, Michael said that they are "just friends."
He also clarified rumors that he and former sexy star Juliana Palermo were an item.
"No, I never dated Julian. She was a very good friend. I didn't see Julian for almost two or three years. We went out for some time, but nothing serious," he said.
He says he is currently single.
ADVERTISEMENT - CONTINUE READING BELOW
"I am very much single," the 28-year-old Fil-Am stressed.
Would he consider dating a Filipina?
He smiled again before answering, "I love Filipinas!"