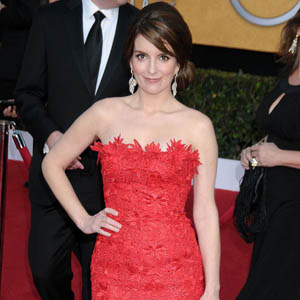 ---

Tina Fey is pregnant with her second child.
The 30 Rock star—who already has a five-year-old daughter Alice with her husband Jeff Richmond—made the announcement as she taped an upcoming episode of The Oprah Winfrey Show, with her representative later confirming she is five months pregnant.
Tina—whose real name is Elizabeth Stamatina Fey—met composer Jeff at Chicago's Second City comedy theater and the couple dated for seven years before marrying in 2001. Alice was born in 2005.
The 40-year-old actress—whose husband is the composer for 30 Rock—has previously spoken of the difficulties of juggling child rearing with the demands of her career.
She said: "I never really believed it before, but when you have a child, there really aren't enough hours in the day to do anything.
"Basically, any free time that isn't spent looking after our daughter or working goes on sleeping."
However, Tina admitted in her new memoir Bossypants—which was released earlier this week—she felt guilty that Alice doesn't have a sibling yet.
She wrote: "I thought that raising an only child would be the norm in Manhattan, but my daughter is the only child in her class without a sibling. Most kids have at least two.
"Who will be my daughter's family when my husband and I are dead from stress-induced cankers? She must have a sibling."