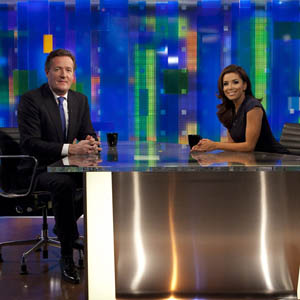 ---

Eva Longoria has tearfully confessed that the end of her marriage to Tony Parker was completely "heartbreaking."
The Desperate Housewives actress fought to hold back tears as she spoke about her split from the basketball player last November during an appearance on CNN show Piers Morgan Tonight, which aired in the US on Thursday evening (April 7).
Eva—who separated from Tony amid allegations he cheated on her with Erin Barry, the now ex-wife of his former teammate Brent Barry—admitted she felt she as though she had lost part of her identity when the relationship imploded.
Piers asked her: "What was it like for you when it all exploded? When all of sudden the fairytale suddenly was hit by this hammer blow."
A tearful Eva replied: "It was heartbreaking. It was, it's the first time I'm talking about it. I'm sorry.
"It was heartbreaking. I think it was disappointing because I had such an identity in being Mrs. Parker and being a wife. And so when that's taken away from you, you go, who am I? It was hard."
The 36-year-old beauty—who was born in Texas but has Mexican heritage—also confessed she refuses to hate Tony, despite the breakup.
She explained: "Marriage in my family is really a sacred sacrament. It wasn't something we did frivolously.
"But, you know, I guess the relationship ran its course, and so many people want me to hate him or want to just destroy him. And I don't. I wish nothing but the best for him. He's not a bad person. He just wanted something else."
Eva—who has been married once before to General Hospital star Tyler Christopher—would not go into detail about why she and Tony, 28, split.
She said: "There was a reason why we got married. There was a reason why we fell in love. There was a reason why we were together seven years.
ADVERTISEMENT - CONTINUE READING BELOW
"I would never speak publicly about what happened or why we got divorced, because I love him and we still talk. We still are in each other's life."
Surprisingly, when pushed by Piers if "there is any way back, as far as you're concerned, if a man behaves that way towards you?"
Eva—who was raised a Catholic—responded: "I don't know. Only time would tell that. Because I do believe in forgiving. I do believe in forgiving and forgetting. I don't know if it's because it's my faith and my religion. But I do."