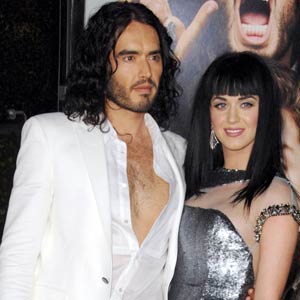 ---
Russell Brand doesn't want his children to have American accents.
The British actor currently lives in Los Angeles with his pop star wife Katy Perry and while he's happy in the US at the moment, he wants to raise any children they have in the UK.
When asked if he wants to return to Britain: "I secretly want to do that. I have a fear of hearing my American children speak to me in American accents."
However, he admits he would have to work hard to sell the idea to California-raised Katy.
He told Seven magazine: "I'm sure I can sell her Great Britain on some level. The Cotswolds—people seem to be up for that don't they? Stone-walled cottage."
Russell and Katy married last October after just a year of dating and the Arthur star admits he's still surprised by how much his life has changed even though a serious relationship is something he has always wanted.
He said: "It's been extraordinary. I'm still surprised by it—surprised that I'm here in Cologne to meet my wife, get to spend a couple of days with her. Ten years ago my life was so far away from these people, just wouldn't have said this would happen to me. Except for me—I was the only person who thought it was possible. And much as I wanted to be successful, I wanted to have a partner and a family. There were long periods amid my single life where I'd think, 'It'd be good to have a mate.'"