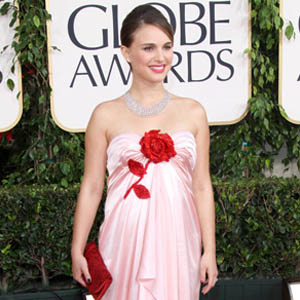 ---
Natalie Portman has given up her vegan diet during her pregnancy.
The 29-year-old star became vegetarian when she was eight, and further eliminated all animal products from her diet in 2009. But she has re-introduced dairy foods into her diet since getting pregnant with her first child with New York City Ballet choreographer fiancé Benjamin Millepied.
Natalie, who is due to give birth this summer, told Atlanta radio station Q100: "I actually went back to being vegetarian when I became pregnant, just because I felt like I wanted that stuff.
"I was listening to my body to have eggs and dairy and that sort of stuff. I know there are people who do stay vegan, but I think you have to just be careful, watch your iron levels and your B12 levels and supplement those if there are things you might be low in your diet."
Natalie also revealed it was her craving for sweet treats such as cookies that made her decide to start eating eggs again.
She added: "If you're not eating eggs, then you can't have cookies or cake from regular bakeries, which can become a problem when that's all you want to eat.
"I actually wanted eggs at the beginning and then they grossed me out after a while."
The Your Highness actress—who says she doesn't know the sex of her baby —switched to veganism in 2009 after reading Eating Animals by Jonathan Safran Foer.
She wrote in an article at the time: "[Foer] posits that consideration, as promoted in The Omnivore's Dilemma, which has more to do with being polite to your tablemates than sticking to your own ideals, would be absurd if applied to any other belief (e.g., I don't believe in RAPE, but if it's what it takes to please dinner hosts, then so be it)."
ADVERTISEMENT - CONTINUE READING BELOW