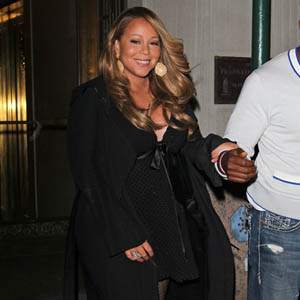 ---
Mariah Carey could give birth at any moment.
The singer is currently pregnant with twins—a boy and a girl—and husband Nick Cannon says they're eagerly awaiting the arrival of their children as they can't wait to meet them.
He said: "I'm very ready for fatherhood, I gotta be. It's any day now."
The America's Got Talent host says he and Mariah have already come up with names for the tots, but are keeping them a secret.
He told website Hollyscoop: "I haven't even told my mama yet."
Nick—who has his own radio show—has also promised his wife he will cut back on his workload once the babies arrive, saying: "She wants me. She's tired of me working and running all over the place. She just wants me to be there."
While he can't wait for the babies to be born, Nick recently revealed he is worried he will "faint" when Mariah gives birth.
He tweeted: "I am probably going to faint in the delivery room! I need to man up!
"Or maybe I should say WOMAN UP since they are the ones that have to be the strongest in the whole ordeal! I am in awe of my wife!
"People are trying to give me advice for when that day comes. I'm trying to prepare but I get queasy in hospitals LOL."