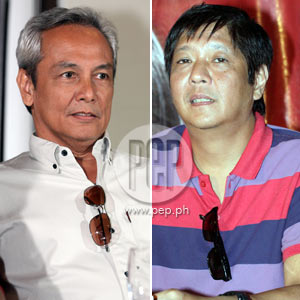 ---
Tension almost arose between Jim Paredes, one of the popular figures at the 1986 EDSA People Power, and Senator Bongbong Marcos, son of the ousted President Ferdinand Marcos.
It happened on Twitter, where the account @DearNoynoy put out a post lobbying against the interment of the deposed martial law leader at the Libingan ng mga Bayani.
(DearNoynoy registered Defeat Gloria as its name, and indicated "Reminders to Noynoy Aquino" in its bio. It has 478 followers, including Ogie Alcasid.)
His April 11 tweet, "Huwag mong papayagang mailibing ang nagkukunyaring bayaning Ferdinand Marcos sa Libingan ng mga bayani," was directed to the Ilocano senator's account @bongbongmarcos.
That same day, the youngest son of Imelda Marcos retorted, "Nagkukunyari?' Galing sa iyo, nakakatawa ka; ni di mo mailagay iyong tunay na pangalan at litrato. No time for cowards (duwag)."
@DearNoynoy's reply used the @mention feature of the microblogging site to include @momblogger @jimparedes @kikopangilinan. His tweet read: "Hinaharas ako ni @bongbongmarcos. saan galing ba ang lahi nito? puwede bang makahingi ng tulong?"
The post elicited this reaction from Senator Bongbong: "@DearNoynoy @momblogger @jimparedes @kikopangilinan Haha! You just confirmed your cowardice."
Unknowingly, he also aimed the "cowardice" tweet to the people mentioned by @DearNoynoy.
This prompted Jim Paredes to issue an upfront one-liner: "@bongbongmarcos Return our money."
Minutes later, the senator posted, "@jimparedes I understand that you have made a career of 'people power' so I'm not surprised that you need to play the role. It's work."
TAKEN-OUT-OF-CONTEXT TWEET. The exchange managed to find its way outside Twitter. Yesterday, April 12, PEP (Philippine Entertainment Portal) received a feed claming that the two men are allegedly "fighting" on the said site.
In a phone interview with PEP managing editor Karen Pagsolingan, Jim clarified, "I don't know what he said kasi I'm not following him, e. I don't follow him. I don't think he follows me. Sumagot ako based sa nabasa ko. If what I'm thinking is right, nagkamali siya kasi nabasa ko yun sa isang tweet niya na kasama lahat. Then sabi ko, 'Teka, baka hindi ganun yun...'"
ADVERTISEMENT - CONTINUE READING BELOW
Jim told PEP that he tweeted "Sorry Bongbong" on his now-protected account @jimparedes.
"I am not sure if I made it an open statement or answered someone who clarified the situation to me, but I did not send it to Bong since I do not follow him ....Tumira pa siya ulit . Pero di ko na pinansin."
While some of Jim's followers were egging him on to fight back, the member of the legendary group APO Hiking Society chose to just let things pass and lock his account.
He continued, "Sabi ko, It started as an unintentional mali yung ginawa niya, e. I don't think anybody wants to fight based on an unintentional mali, e, di ba? Twitters were expecting a battle royale and were egging me but I said, sorry to disappoint you but it's not gonna happen."
For the politician's part, he made an effort to clarify that his message was meant only for @DearNoynoy, and that he just forgot to erase the mentions included by the latter.
His tweet: "I called only one person a coward by clicking on 'Reply' to his tweet to me and saying my piece. Am I supposed 2 remove other names HE (DearNoynoy) included in his tweet to me? I ask this earnestly. As for the 'fight,' supposedly going-on, no worries: it is everyone's prerogative to reply or ignore, or block as Twitter recommends..."
Subsequently, Bongbong's followers provided helpful tips on how to tag or untag people on Twitter.
His response: "Thank u everyone4 helping clarify certain features in Twitter. Appreciate it. from: semi-ignorant in twitter. Haha! Really,thanks! G'NIGHT"
Bongbong, however, may have forgotten to say sorry to Jim and the two other Tweeters—@momblogger and@kikopangilinan.
But Jim just shrugged things off, and buried the brief Twitter encounter in the Libingan ng mga Issue.
ADVERTISEMENT - CONTINUE READING BELOW