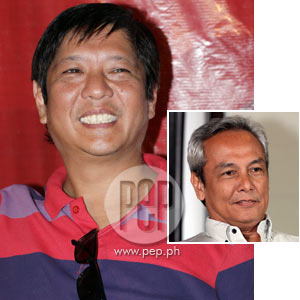 ---
Mere minutes after PEP (Philippine Entertainment Portal) published the story about Jim Paredes and Sen. Bongbong Marcos's exchange of wry remarks on Twitter (Click here to read story), the senator posted this message on his Twitter account:
"I just read a story that Jim Paredes did apologize due to a misunderstanding however, I never did see it and now that i've just read that he did, I accept his apology and likewise extend my apologies.
"I do not use twitter to quarrel with people and I assume he doesn't either. I realize this will not change his political views that at times oppose mine but that's fine. Not everyone agrees with either him or me and we're both mature enough to know that.
"Having said that, as an aside, I might as well let him know that whatever his politics is, that never changed my opinion about how I've always liked the music of Apo Hiking....
"I've asked people here exactly how some features work here in Twitter and the numerous answers I received also had different opinions on the subject so now I know, misunderstandings can easily occur here in Twitter."
Apparently these two public figures will continue to share their opinions while avoiding the craggy road of misunderstanding. For sure, celebrities and prominent figures who use Twitter will double check who they tag and who they reply to.
As for some people who aim to create discord among people with opposing beliefs, a battle royale—as Jim said earlier, "is not gonna happen"
Jim Paredes is a musician formerly associated with the APO Hiking Society and was a prominent figure during the 1986 People Power Revolution.
Senator Bongbong Marcos is the son of the late President Ferdinand Marcos.