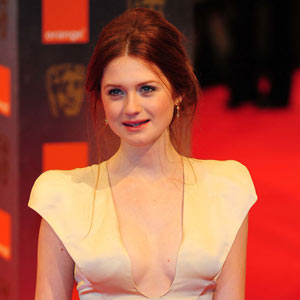 ---
Bonnie Wright is getting married.
The 20-year-old Harry Potter actress—who plays the title character's love interest Ginny Weasley in the hit movie franchise—has got engaged to co-star Jamie Campbell Bower, who plays Gellart Grindlewald, after dating for over a year.
Jamie said: "I am engaged. I'm very happy. It's a wonderful, wonderful time."
Although the couple are planning their nuptials, Jamie refused to give any more details.
He told website The Daily: "We are [planning the wedding] but I won't say when and I won't say where or how."
Jamie, 22, and Bonnie met on the set of the final Harry Potter movies, Harry Potter and the Deathly Hallows—which has been split into two parts, with the final film to be released this summer—and are thought to have gotten engaged after six months of dating despite just confirming the news.
A source on set said last year: "We are all absolutely shocked and surprised and can't believe that Jamie has asked Bonnie to marry him.
"They met on the set of the movie and Jamie fell for Bonnie really badly. He says they are completely in love. It all seems very whirlwind, but they both say it's the real deal."
However Bonnie should watch out as Jamie—who also stars in The Twilight Saga franchise—admitted he has received some strange fan mail recently.
He said: "I got sent a package of three wheels of cheese, a letter which began with 'Dear Jamie, I'm not a psychopath' and then went on to describe some very, very sexually explicit things that this young woman wished to do with me. She also included a leather bondage collar with nipple clamps.
"I had to finish my beer very quickly and then reach for another one."
ADVERTISEMENT - CONTINUE READING BELOW