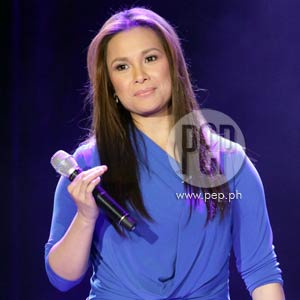 ---
Lea Salonga never thought that her short posts on Twitter would also be part of the current controversy surrounding the March 12 episode of Willing Willie.
"I've been on Twitter for the last couple of years. And honestly, whenever I express an opinion about something, someone, or anything, usually people cannot just let it go.
"But something like this was something that I could not have ever anticipated. Never ko inakala na maging ganito and I was very surprised. I'm like, 'Okay, let's just see what happens now,'" she said.
It can be remembered that the Tony-winning Filipino actress was one of the celebrities identified by TV host Willie Revillame as having bashed him and his variety-game show on TV5. (CLICK HERE to read related article)
This is in connection with the Willing Willie episode where a tearful six-year-old boy performed a "macho-dance routine" and was rewarded with P10,000 during its "Wil Time Big Time" segment. (CLICK HERE to read related article.)
At the BaliKaBayani concert, which was organized for the overseas Filipino workers last night, April 14, at the Araneta Coliseum in Quezon City, many reporters who covered the event patiently waited for Lea backstage for an interview. Lea was one of the performers at the concert.
When the singer-actress came out of her dressing room, she told the media that she'd be limiting the questions she's going to answer. However, she responded to all questions from the media.
Lea said she made those posts on the micro blogging site because she felt the need to comment on the incident.
"Well, we only reacted on our gut," she said. "I saw the whole thing, I saw the entire thing, and it's like, 'Okay, this just doesn't feel comfortable.' And I have to say something.
ADVERTISEMENT - CONTINUE READING BELOW
"It's not against the person. You can go back and read my tweets. It's criticizing a situation and an instance.
"It's my opinion, and I'd like to think that perhaps when the show comes back, it will be used as an avenue for change beyond donations and money.
"Money is not the only way we can change things. You know, there's putting up schools and employment opportunities, and foundations—there's a whole lot."
NOTHING PERSONAL. In the April 8 episode of Willing Willie, Willie Revillame questioned the celebrities who critized him, asking on the air if they had given anything to the poor.
"Ano ang nagawa ninyo? Ano ang nagawa ninyo sa sambayanang Pilipino?" he said on-air. "Kapwa tayo artista. Nakagawa ba kayo ng tulong? Nagbigay ba kayo sa Bantay Bata ng one million [pesos]?" Willie was referring to donations he had given to Bantay Bata.
Lea admitted she was surprised with this attack from the TV host. However, she said she would not take it personally.
She explained, "Everyone kasi has a different opinion on what the word contribution means. It could be financial, monetary, cultural, ideological or religious.
"I'd like to think that there are many people in the country, in their own way, who are able to make positive contributions for the betterment of our countrymen, whether it's in the arts or in the fields of business industry, sciences.
"I felt a little surprised. But if that's really what he thought and what he said was an honest opinion...
"This is a democracy, in which every citizen can responsibly say what they feel about a certain issue. Let's say, if you don't like what the president is doing, everyone has an avenue, such as Twitter and Facebook, to express 'I don't like what the president is doing. I know, I feel that he can do this better.' And I'd like to think that the guy, for example President [Noynoy] Aquino, is objective enough to say, 'Yes, I understand where these people are coming from.'
ADVERTISEMENT - CONTINUE READING BELOW
"And as a performer, I get negative opinions, critiques, saying, 'You know what, I like her voice but at this concert she was getting distant and I felt very cold when she was performing.' And there are people who would critique my acting or lack of it, or my attack on certain things.
"I'm just trying to think, you know what, that's all constructive. And what I can do is use what these people have said, whether they're critiques or vents, and try to improve myself."
The former Miss Saigon actress also stressed that criticisms are always part of the life of a celebrity.
She elaborated, "I mean, I'd like to think that from the time I was in Miss Saigon until today, I've been able to somehow get better in what I do. Thanks to people telling me, 'No, this is not right. Try this. Do this. You can hit that better. No, you were kind of off-key. I think that next time you should be more forceful in you approach.'
"So, name it, I've received it from all sides.
"And I have already been told from when I was still very young, 'Alam mo, babatikusin ka from everything you do, from whatever you say, for how you thrust, for how you sing.'
"But don't ever take it personally because that is part of being in this business. You have to develop a thick skin, which I can say is a requirement of every actor, actress, TV host, singer, theater actor."
The UN Goodwill Ambassador then reiterated, "Everyone is open to criticisms. We're all open targets, all of us. And how else are we all gonna get better if we don't receive honest and objective criticism?
"You know, as long as we're not insulted, as long as hindi mo kami minumura, and as long as it stays in a very rational and civil level, I will accept criticisms, it's fine. It's welcome and I'll try to improve myself as a result of it."
ADVERTISEMENT - CONTINUE READING BELOW
NO SERIOUS THREATS JUST "UNSAVORY" MESSAGES. After she was named by Willie as one of the celebrities who criticized his show, Lea admitted she started receiving hate messages on Twitter. But nothing too serious.
She told the media, "Death threats, I cannot claim to have received. I mean, I've been receiving a lot of unsavory... Let's just put it in a civil way, just unsavory messages, a bunch of unpleasantness."
And how did she deal with it?
"You know, all I can do is to be understanding and just say... Well, if I turn the tables around and somebody said something about me that's unsavory, and I think I'd have to be protective, but without going that far.
"Some of the tweets got pretty bad so I just helped myself. You know, I have to understand where it's coming from.
"You know, the block button became my best friend for a while, which is just fine. I mean, for every hate tweet that I've received, there have been a lot of others that have been very supportive.
"And even though there are some that are critical, it's critical while still being objective, and that I appreciate."
In the last live episode of Willing Willie before it went off-the-air, Willie stated, "Kung idedemanda ka ng TV5, idedemanda rin kita. Magdedemandahan tayo. Idedemanda ko ang lahat ng tumira sa akin sa Twitter. Lahat ng personal, tandaan mo 'yan!" (CLICK HERE to read related article.)
But when PEP (Philippine Entertainment Portal) asked her if she feels threatened by it, Lea answered, "Not really. I mean, no one slapped me with a lawsuit yet."
Then, she continued, "Well, if everyone who was critical of that particular show was going to be sued... There have been many people who have been critical and not just us. I don't know, it's gonna get to a point where no one will be free to express their opinion anywhere."
ADVERTISEMENT - CONTINUE READING BELOW
NOT QUITTING TWITTER. Although her Twitter posts became part of the current controversy in local show business, Lea said this is not enough reason for her to stop voicing out her personal opinion.
"I'm not gonna get off Twitter just because of this," Lea said smiling. "I mean, I have a lot of opinions about a lot of other issues. I'm a strong advocate of the RH Bill.
"And if I have opinions about it, being very objective, I will post something. I will have a debate with someone who's anti. 'Okay, this is where I'm coming from and this where you're coming from.'
"We can agree to disagree but we'll keep the arguments very rational and civil. Then, it's like, 'Oh, I kind of like this discourse on this avenue.'
"I'm always trying to be cautious when I tweet because I don't really want to step on anyone's toes. That really was not my intention. And there's no conspiracy here or anything, you know.
"We, as human beings, just have the need to say something. It's not about the person, it's not about anybody. It's just that we saw that something wasn't right...that's it."
Towards the end of the interview, Lea reminded netizens--citizens of the Net--to be responsible about their posts on Twitter.
She said the social networking site is a good venue to express one's opinion on any issue, "Para makapag-express ang isang tao ng kanilang mga pananaw sa kahit anong issue—whether it's political, showbiz, pagkain, mga lugar, paglalakbay.
"It's actually really fun, informative, and it's a really wonderful way for people to communicate in real time and express themselves, as long as they use it in a responsible way, without attacking anyone or a person's dignity."
ADVERTISEMENT - CONTINUE READING BELOW