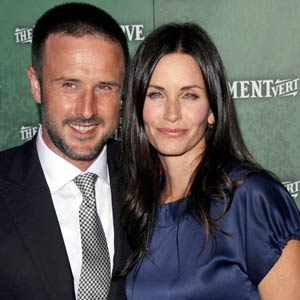 ---
Courteney Cox has revealed that one of the problems in her marriage to David Arquette was that he constantly wanted sex.
The actress insists her estranged husband has a strong libido and his irrepressible sex drive was a factor in their decision last October to have a trial separation after 11 years of marriage.
Referring to David's recent confession that he hit on her during a trip to Disney World with their six-year-old daughter Coco, she said: "It was early in the morning. This is one of our problems in our relationship. Whenever I would need consoling from David, he could not literally put his arm around me for one second without completely getting a boner...
"So [Disney World] just wasn't the right time and I don't want to confuse the issue. We're going through a hard time."
Courteney made the confession during a joint interview with David on Howard Stern's Sirius XM radio show, and during the chat the 39-year-old seemed to suggest that his 46-year-old wife was through with the marriage.
Speaking to the former Friends star, he said: "I think you're over it, Baby. You just need to admit it and we just need to figure out next steps."
To which she replied: "Wow, that's heavy. You can't count [Disney World] as the place where you know I'm not into you. I had just woken up. I don't think [sexual attraction] is the issue.
"The truth of the matter is that we love each other so much. We have such affection for each other but we are very different...
"I'm a homebody. David doesn't drink anymore, he's completely sober, but he likes to go out and dance. I don't want to inhibit him in his life. He really is a very gregarious guy, he's very outgoing. I'm much more of an introvert."
ADVERTISEMENT - CONTINUE READING BELOW
Courteney—who appears in the new horror movie Scream 4 with David, who has completed a stint in rehab for alcoholism—also insisted she hadn't dated anyone since agreeing to the split, despite being romantically linked to her Cougar Town co-star Josh Hopkins—who she recently went on vacation with to the Caribbean.
When asked if she'd had sex since the breakup, she bluntly said: "I have not had sex."