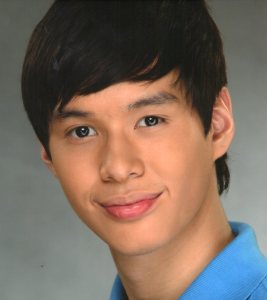 ---
It was a somber Gary Valenciano who opened TV variety show, ASAP Rocks, today, April 17.
Standing behind Gary were the ABS-CBN stars, who were all in white, and teary-eyed, as they paid tribute to AJ Perez, whose young life was cut short in a tragic accident a little after midnight today. He was only 18.
AJ was born on February 17, 1993 and died on April 17, 2011. (CLICK HERE to learn more about AJ's fatal accident.)
Gary started off by saying, "Today we come to you with saddened hearts as we bear the news of the sudden passing of one of our brothers here in ASAP and ABS-CBN: AJ Perez.
"We pray that the events happening, his mom and his dad, in this very unfortunate time... we lift ourselves to you Lord dahil medyo mabigat mag-show ng ganito because ito po ay pinaka-unang beses na nakaranas kami ng isang taong talagang connected po dito sa amin sa ASAP... ay wala na po siya.
"We pray for everyone mourning at this time, for this very tragic loss. Today, ASAP Rocks with a heavy heart. But with our spirits lifted up, knowing that for a humble young man, like AJ, being with You is the best place for him to be."
Mr. Pure Energy was trying to hold back tears as he continued: "AJ may no longer be with us physically but he left good memories... in our hearts; he will live on."
Speaking on behalf of everyone in ABS-CBN's Sunday variety show, Gary declared: "AJ, we dedicate this show to you. It's yours. Embrace him, Lord, and make him know. Give him the best seat to watch what we offer him today. In Jesus's name. Amen."
Gary then sang "Home." Part of the song goes:
Shadows come, have nowhere to go / [back in Your arms]
My one last hope, God only knows / [where I'm safe from harm]
In Him I'll find what I've been searching / [I'm so glad to know I'm home]
Right now I'm on my way / Back to a place where I can hear His voice
[where I was made to be]
And see His face / [having You with me]
As I'm on my way / He sees me coming / Home
ADVERTISEMENT - CONTINUE READING BELOW
Addressing the young actor for the last time, Gary said: "AJ, you've gone home. We miss you."