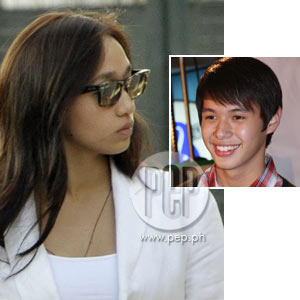 ---
"At first, I couldn't believe it until I saw AJ."
This was how Steph Ayson, the 17-year-old non-showbiz girlfriend of AJ Perez, reacted when she received the tragic news about the young actor's death.
AJ was killed in a vehicular accident last April 17, Saturday, at Mondaca, Tarlac. He was on his way home from a Kapamilya Karavan show in Dagupan, Pangasinan, for the annual Bangus Festival. (CLICK HERE for related article.)
In an interview with ABS-CBN News, Steph said that she heard about the death of her boyfriend through AJ's father, Gerry Perez.
"Tito Gerry was the one who called me," she said. "When he was telling me, it was hard for me to grasp the idea, so my sister had to call Tito Gerry again and asked and confirmed what happened."
OPENING UP TO THE PUBLIC. AJ and Steph maintained a low-key relationship, but due to recent events, the young girl decided to be more accessible by sharing her Twitter account with the public.
She posted this message in the micro-blogging site: "Opening my twitter to the public so I could share the AJ I know with everyone. I've always been his fan since I was in grade school, too."
Steph admitted that their relationship was unique because of AJ's celebrity status.
"There've been quite a number of complications regarding privacy, with regard to our relationship, but the good thing about AJ is that even though we kept it in the quiet, he made sure that I wouldn't feel that I was pushed aside or whatever."
"He really made me feel special in every way that he could, even his friends, constantly texting me," she said.
She described the late actor thus: He has the "capability to make people feel optimistic just as he is. And he's just very inspiring and sobrang determined niya."
ADVERTISEMENT - CONTINUE READING BELOW
When asked to share what she will miss most about the young actor, Steph revealed: "I'll just miss the way he calls me every time may break sa taping.
"Sobrang kulit kasi niya, kahit text or call, or pati sa buong family ko... I'll miss of course having him around and I miss someone constantly bugging me to be okay."
Steph believes that her faith will help her get through this difficult time.
"I know with God's help and AJ's help, I'll be fine."
The remains of AJ Perez have been transferred to the Christ the King Chapel in Green Meadows, Pasig City.
The wake is open to the public starting tonight, April 19, from 9 p.m. until midnight.
In the succeeding days, public viewing will be from 4 p.m. to 7 p.m., and 9 p.m. until midnight.