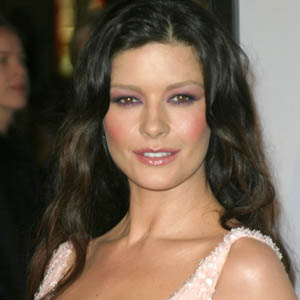 ---
Catherine Zeta-Jones hopes her confession that she has Bipolar II disorder will help other sufferers of the illness.
The 41-year-old actress revealed earlier this month that she was being treated for the condition—also known as manic depression—and she hopes that her decision to go public with her struggle will help other people.
In a statement released to this week's People magazine, she said: "This is a disorder that affects millions of people and I am one of them.
"If my revelation of having Bipolar II has encouraged one person to seek help, then it is worth it.
"There is no need to suffer silently and there is no shame in seeking help."
Earlier in April, Catherine was treated for five days at the Silver Hill Hospital in New Canaan, Connecticut. It is believed that the mental illness was triggered by the stress of her husband Michael Douglas battling throat cancer.
Although the 66-year-old actor was given the all-clear in January, the Chicago star—who has two children, son Dylan, 10, and daughter Carys, eight, with Michael—was still experiencing the effects of depression.
She made the decision to seek help before shooting started on her new film, Playing the Field.
A friend of the Oscar winner said: "The simple things would just seem overwhelming, like going out to dinner.
"There was just a little piece of her chipped away.
"It was hard to watch because I knew how hard she was trying."
Bipolar disorder is a mental illness where sufferers have elevated or irritable moods alternating with periods of depression. They swing from being productive to being unproductive, from being social creatures to being insular. Bipolar II is marked by longer mood swings and more severe depression, and can be triggered by major life changes.