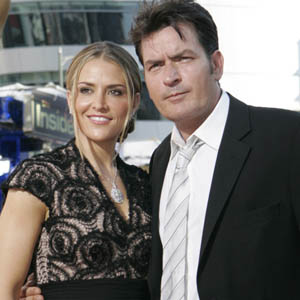 ---
Charlie Sheen's divorce from Brooke Mueller has been finalized.
The couple—who married in 2008 and have two-year-old twin sons, Bob and Max, together—have officially ended their union, with former real estate agent Brooke being granted $55,000-a-month in child support on top of a lump sum of $757,698.70 and another $1 million for her share of their marital home.
According to gossip website TMZ, the former Two and a Half Men actor—who also has two daughters, Sam, seven, and five-year-old Lola, with ex-wife Denise Richards, as well as a grown-up daughter, Cassandra, from a previous relationship—will keep the family home in Los Angeles.
The documents also state: "Under no circumstances shall the child support paid by Charlie for Bob and Max be less than the child support paid by Charlie to Denise Richards for Sam and Lola."
The news comes after Charlie, 45, lost his custody battle against Brooke.
The troubled star had hoped to win primary legal and physical custody of Bob and Max after Brooke refused to take a drug test last month and entered rehab, but had his plea rejected by judge Hank Goldberg at the Stanley Mosk Courthouse in Los Angeles.
The decision maintained the situation decided in court on March 10, which sees Brooke having majority custody of Bob and Max, with Sheen being allowed to spend time with them every other weekend from Saturday morning until Sunday evening for the first two months.
For the following two months, he will have the children every other weekend from Saturday morning to Monday morning. After that—provided both he and Brooke stay alcohol and drug free—he will have them an additional Wednesday morning through to Thursday morning.