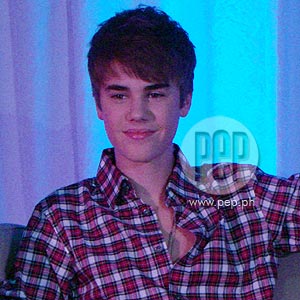 ---
Justin Bieber does not mind if some people do not appreciate his music.
That's what the 17-year-old Candian pop superstar told the local media a few hours before his concert last night, May 10, at the SM Mall of Asia concert gounds in Pasay City.
Wearing a checkered polo shirt, denim shorts, and Vans sneakers, Justin gamely answered questions from the media, who patiently waited for him inside the air-conditioned tent backstage.
The "Baby" singer said, "I'm 17, I'm young, I'm not an adult yet so people are gonna think I just make music for young people. But my music is for everybody.
"You know, I definitely write songs that are suitable for people my age. But I'm pretty sure that everybody can relate to love."
Justin's popular songs include "One Time," "Never Let You Go," "U Smile," "Somebody to Love," and "One Less Lonely Girl."
Although his music right now is mostly for teenagers, Justin said, "My music will grow as I grow older."
And music, according to the young singer, will make him stay in the industry as the focus of his career.
Justin said, "I think, over everything, the main focus is the music. I mean that's why I'm here, that's why I do this, it's all because of music.
"Basically, I relate all my emotions to everybody through my music. So, I think that through my life.
"I'm gonna change and things about me will change, so my music will change. But all throughout, it's all about music."
MUSIC AS A GOOD INFLUENCE. The young singer also mentioned that aside from connecting to his fans, his music is also a good tool to influence people.
Justin related, "With my music, a lot of people who are going through hard times result in listening to my music.
ADVERTISEMENT - CONTINUE READING BELOW
"It's just good to hear like the girl, she was in the hospital and going through chemotherapy and just listening to my music, it helped her get through it.
"That's just a great thing, it's the music and being able to inspire people. I think that's the best part of it."
BEING FAMOUS. Every time Justin holds a concert, it's expected to be a soldout event because many teenagers around the world, especially female fans, idolize him so much.
Justin said that it's overwhelming and he thanked his loyal followers for showing him such great support.
The young singer-songwriter said, "My fans are really devoted. And really, I enjoy it.
"You know, this has been a crazy world sometimes.
"Sometimes I get overwhelmed because it's crazy, the cameras and the faces and stuff, and a lot of people are always around you. But I'm having a lot of fun."
Justin is aware that his concerts sometime create traffic jams because of his fans. And the former YouTube sensation appreciates this very much.
He said, "It's crazy but it's amazing to know that so many people care about me and care about my music that much.
"You know, they wait outside hotels. They wait in places and run in places just to catch me. It's incredible and definitely amazing."
But other than being a popular music artist, Justin think it's more important to be a role model for the youth.
He said, "There's so many people that are listening to me and who are watching my every move.
"I know that I'm gonna make mistakes but I'm gonna try to just be the best I can be."
"I'm not gonna do anything that I would normally do.
ADVERTISEMENT - CONTINUE READING BELOW
"But I think I'm a good person in general, so I think people will see that."
SUCCESS SECRETS. During the press conference, Justin was also asked to share three secrets of his success.
The young man from Ontario, Canada replied, "If it's working, don't change it.
"Like if something's working, don't try to change it because usually that messes everything up."
Then, he reminded aspiring young singers, "Just be relatable to your fans or just be relatable in general so that other people can feel that they can relate to you, so that people can know how you feel and they can know everything.
"I think that's important, too.
And the most important secret, according to Justin: "Make sure you're having fun while doing it.
"If you're not having fun then it's not gonna be worth it.
"Always have fun."
After the Philippines, Justin will be performing in other Asian countries such as Hong Kong, Taiwan, and Japan.