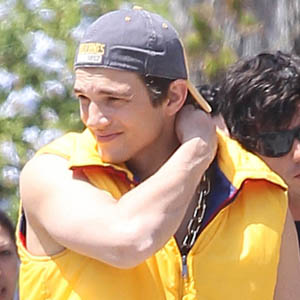 ---
Ashton Kutcher has officially signed up to replace Charlie Sheen in Two and a Half Men—but will earn less than his predecessor.
The No Strings Attached star will take home more than $625,000 per episode, which is lower by $900,000, compared to the $1.25 million per show Charlie was banking before he was fired from the comedy series because of his turbulent private life.
According to gossip website TMZ, CBS boss Les Moonves has reportedly signed the deal to get Ashton on board and will soon announce that the show will be rebooted for season nine.
It has also been confirmed that Ashton will not be replacing Charlie's character Charlie Harper, but will be portraying someone new.
In addition, Jon Cryer—who Charlie branded a "troll" upon his departure —and Angus T. Jones will also be returning.
A host of actors, including Woody Harrelson, Jeremy Piven, and Rob Lowe, had all been tipped to take Charlie's place in the series.
Ashton, on the other hand, admits he "can't replace Charlie Sheen" on Two and a Half Men.
The 33-year-old star has has vowed to work his "ass off" to ensure the show is a success.
He said: "I can't wait to get to work with this ridiculously talented 2.5 team and I believe we can fill the stage with laughter that will echo in viewers' homes.
"I can't replace Charlie Sheen, but I'm going to work my ass off to entertain the hell out of people!"
Show creator and executive producer Chuck Lorre is thrilled that the hit comedy—which will resume filming in summer—is now able to continue after its future was thrown into doubt following Charlie's dismissal.
ADVERTISEMENT - CONTINUE READING BELOW
Chuck said: "We are so lucky to have someone as talented, joyful, and just plain remarkable as Ashton joining our family.
"Added to that is the deep sigh of relief knowing that our family stays together. If I was any happier, it'd be illegal."
Meanwhile, Charlie—who branded Chuck "s**tbrain" and "Chucky Cheeseball" during their public feud—has taken a swipe at Ashton's appointment, insisting he will not attract the same demographic of viewers that he did.
Charlie told TMZ: "Kutcher is a sweetheart and a brilliant comedic performer. Oh wait, so am I!!
"Enjoy the show America. Enjoy seeing a 2.0 in the demo every Monday, WB. Enjoy planet Chuck, Ashton. There is no air, laughter, loyalty, or love there."