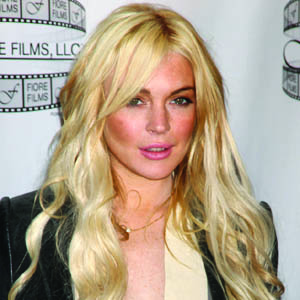 ---
Lindsay Lohan has won a restraining order against her stalker.
The troubled actress has claimed she has been living in fear since June 2009 because David Cocordan has been bombarding her with text messages and showing up at her home with chocolates and magazine articles he had doctored to make it appear as if they were dating.
According to TMZ.com, in her application for the restraining order, Lindsay wrote: "Without a restraining order I fear that there will not be sufficient law enforcement mechanisms to keep Mr. Cocordan away from me, or those around me."
As well as filing a petition against him, Lindsay also signed a declaration claiming he had called or texted her more than 100 times to express "delusional thoughts and irrational feelings about his belief that [we] are in a relationship."
The declaration also states that a Los Angeles Police District detective in the Threat Management Department has looked into the matter.
The detective is said to have discovered that Corcodan suffers from schizophrenia, is off his medication, and has a "significant psychiatric history of acting on his delusional beliefs."
Earlier this week, Lindsay said Cocordan had claimed to kill her and had managed to post on her Twitter page a picture of him on the grounds of her home, although this picture was later removed.
She wrote: "This is the freemason stalker that has been threatening to kill me—while he is TRESPASSING!
"im actually scared now—the blood in the 'cults' book was too much.
"All my fans, my supporters, please stand by me."