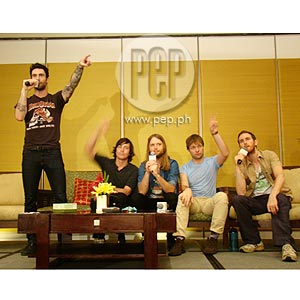 ---
The Grammy Award-winning pop rock band, Maroon 5, rocks the SM Mall of Asia SMX Convention tonight, May 23. The group briefly met the press at the Edsa Shangri-La Hotel in Mandaluyong City.
There was only a limited time for the press conference, as they still had to prepare for the concert. The five members of the group—vocalist Adam Levine, guitarist James Valentine, keyboard player Jesse Carmichael, bassist Michael Madden, and drummer Matt Flynn—picked random question from the invited media.
MYX celebrity VJ Iya Villania helped facilitate the media conference.
What's so special about the making of your latest album, Hands All Over?
Maroon 5: "Well, we made this album in Switzerland, it's a very far and beautiful place. It's always been an amazing thing. It's paradise, a beautiful and kind of isolated place.
"We made it with Mutt Lange who is a legendary and super producer, who has a heart of gold. It was also an interesting experience."
Would you be willing to do a collaboration with Pinoy artists? People like Charice, Manny "Pacman" Pacquiao?
Maroon 5: "Yeah. Definitely. Of course we would like to collaborate with Pacquiao, that would be amazing. Sign us up, please."
Do you have a formula for writing your songs? Tell us about your songwriting process.
Maroon 5: "I don't think there is a formula at all. It's actually pretty random. Sometimes it can come from Michael [Madden] or Jess [Carmichael]. It can be the birthday right here of Matt [Flynn]. It can come from anything... It's really kind of all from different places. It's better that way to keep it unique and different."
Individually or as a group, can you single out any memorable fan?
Maroon 5: "Heather. She is the biggest fan probably in the world. She has been in more shows than any other person. And she was around when nobody came to our show. She was the only person there with a couple of her friends. She's the best. She's the most dedicated until this day. Heather, we love you very much."
ADVERTISEMENT - CONTINUE READING BELOW
What do you like the most about being on tour? Who is the goofiest member?

Maroon 5: "Well, being on tour, the coolest thing about it is we're able to see different places.
"I think the goofiest member is James. [But] we all have our moments."
Which artist do you look forward to collaborating with in the future?
Jesse Carmichael: "Adele."
Would you like to elaborate?
Jesse Carmichael: "No."
James: "James Murphy from LCD Soundsystem. Do you guys know him? They just broke up so he's not doing anything."
Adam (in jest): "And Manny Pacquiao."
What can we expect from your concert tonight?

Maroon 5: "The greatest show of all time."
The group is expected to perform their all-time hits like "This Love," "She Will Be Loved," and "Wake Up Call."
Their set list includes their current chart-topping songs from their third album, Hand All Over, including "Misery," "Give A Little More," and "Never Gonna Leave This Bed."