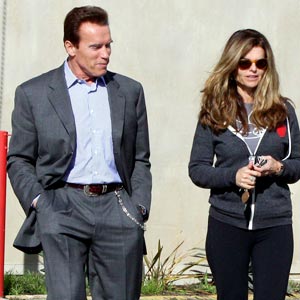 ---
Arnold Schwarzenegger has at least two more secret children, British actress Jane Seymour has claimed.
It emerged last week that the actor and former governor of California—who recently separated from wife Maria Shriver—has a 14-year-old son with his family's now-retired housekeeper Mildred Patricia Baena.
Now his famous actress-neighbor has predicted further revelations will emerge about his personal life.
Jane—who lives close to Arnold in Malibu, California—said she was not shocked to hear that Maria and Arnold, who have four children Katherine, 21, Christina, 19, Patrick, 17, and 13-year-old Christopher had split after 25 years together.
She says she has been told there are other secrets yet to be exposed.
She told CNN: "I was not even remotely surprised. The moment I heard it, that there was an announcement of their separation...
"He was obviously jumping the gun before everyone else told the world of the news.
"From what I gather, I think there will be lots of information coming people's way.
"I heard about two more [children] somebody else knows about. I even met someone who knows him well."
Meanwhile, Maria is said to have hired A-list divorce lawyer Laura Wasser.
She could pocket $100 million in a settlement, with their combined worth said to be between $200 million and $400 million.