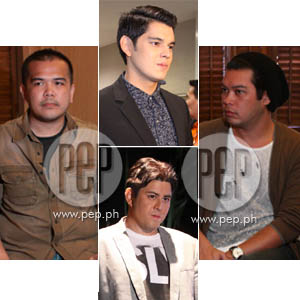 ---
In the early morning hours, two young men were left bloodied inside a Mitsubishi Pajero whose rear windshield had been shattered.
What seems like a scene from an action movie actually happened at a parking lot in The Fort, Taguig City, on January 30, 2005, at 2:30 a.m.
The two men would later be identified as Arnel Cruz, a disc jockey, and Ram de Vera, a stylist.
And the young men whom they accused of leading a group in beating them up were actor Richard Gutierrez and his brother Eduardo Jr., also known as Rocky.
It has been six years since the incident happened.
Since agreeing to air their story once, on TV Patrol and The Buzz in February of 2005, victims Arnel and Ram have chosen the path of silence. They have not spoken to the media since.
But last May 26, 2011, the two decided to give an exclusive interview to PEP.ph (Philippine Entertainment Portal), and ABS-CBN's TV Patrol.
Arnel and Ram personally gave their statements to PEP and TV Patrol on the latest development about their two lawsuits against the sons of actor Eddie Gutierrez and talent manager Annabelle Rama.
A HEARING ON JUNE 9. On February 8, 2005, Arnel Cruz and Ram de Vera filed a Joint Complaint-Affidavit at the City Prosecutor's Office of Taguig City.
Attached to the Complaint-Affidavit were the Taguig City Police Precinct 7 report, the Medico Legal Report, pictures of Arnel and Ram, and pictures of the Pajero.
On March 21, 2005, Richard and Rocky Gutierrez filed a Joint Rejoinder-Affidavit asking that the case be dismissed for "lack of merit."
Within that year, the Taguig City Prosecutor's Office dismissed the complaint due to "lack of probable cause."
On August 10, 2010, or five years after Arnel and Ram filed their complaint, the Department of Justice (DOJ) reversed the Taguig City Prosecutor's Office.
ADVERTISEMENT - CONTINUE READING BELOW
It granted the petition of Arnel and Ram.
It then directed the Taguig City Prosecutor's Office to "file two (2) separate information for serious injuries and one (1) information for malicious mischief against Richard, Rocky, and 'John Does' [designation of the unidentified men]."
On June 9, 2011, the hearing of the case starts.
Arnel, now 35 years old, told PEP: "Nag-appeal kasi kami sa DOJ nang mabasura siya. Then after five years, lumabas nga, may nakuha kaming sulat na nagsasabi na mabubuksan uli yung kaso.
"So, nagulat kami kasi nabuhay, e. Tahimik na kami, akala namin wala nang mangyayari.
"Ngayon, nabuhay ulit, yun na nga, nakakatuwa, may nakuha akong sulat, sinabing mabubuksan uli yung kaso.
"Sabi ko, 'Sige, tignan natin.' Nung una, nakakagulat lang na lumabas siya.
"So, nagkaroon na kami ng pre-trial, natapos na yung pre-trial, so mukhang magtutuloy-tuloy na siya.
"It really took a while. We moved on. No expectation on my end because expectation is the mother of disappointment.
"So, I was surprised, to be honest, when after five years we get the letter."
Ram's reaction was essentially the same.
"Nang binigay sa amin yung letter na bukas uli yung kaso, it was good," Ram told PEP.
"It was good news na hindi ko ini-expect really. Kasi sabi nga namin, tulog na siya, patay na.
"Pero, at least, the justice system is okay."
Arnel added that, as mandated by law, a mediation took place. But, he recounted, "Nakakalungkot na hindi kami nagkasundo."
Of the trial that will start on June 9, Arnel said he is very happy but feels trepidation at the same time.
He explained, "Kabado, na halo-halo na lang siguro, dahil nga hindi ko pa naman na-experience yung ganito.
"May kaba, may tuwa, kasi kahit paano, yung akala kong wala nang nangyari, magtutuloy pa din.
"Bumalik lang siguro yung tiwala ko na justice can be served."
ADVERTISEMENT - CONTINUE READING BELOW
TALKING TO THE MEDIA. Arnel and Ram said they value their privacy, which is why they agreed to a media interview only once, in 2005, the year the incident happened.
But approaching the media again, six years after, is a logical step, they said, for "the truth to come out."
In Arnel's words, "Wala akong hinihinging iba [sa media]. Gusto ko lang lumabas yung totoo.
"I thought about it for a long time. I don't like being in the public eye, which is ironic because I'm a radio personality.
"But like I said, better heard than seen, so I like being behind the camera. I don't like being in front.
"But, I just think now is the right time to talk after a long while.
"I personally would like to have closure on this.
"So it's more of... it was already there, fine, it died down. I was able to live my life peacefully for quite some time.
"But now, it's coming out, and not for anything, I guess it would come out eventually. As things go on, eventually, it will be picked up.
"I'd rather na simula pa lang—para everything will be clear."
He recalled an instance when reporters were spotted in one of their court sessions.
"Naalala namin nang pumunta kami sa korte na andun siya [Richard].
"May nagsabi na nga na may mga reporter na doon nang wala kami.
"So, kung ganoon naman pala na [kahit] wala kaming sinasabi, lalabas at may pupuntang reporters, mabuti nang manggaling na sa akin."
Ram gave his own reason for agreeing to do the interview at this time.
"I don't want it to happen again," he said.
"Ako mismo, insider sa showbiz and fashion. So, ito mismong mga tao na ito nakakatrabaho ko, sila nakaka-interact [ko]—'tapos nangyari sa akin?
ADVERTISEMENT - CONTINUE READING BELOW
"Sa akin kasi, I'd much rather na hindi siya maulit uli... Parang, may masasaktan na random?
"Parang, I'm doing this for the greater majority.
"I mean, I don't want to sound like bayani ako or whatever.
"Yung sa akin kasi, [I'm a victim of] injustice.
"Ayaw ko siyang maulit, ayaw ko siyang mangyari, ayaw kong makakita ng tao na kinakawawa. Yun lang."
Although their physical wounds have long healed, Rammel said, "Admission would be nice."
THE BACKSTORY ACCORDING TO ARNEL AND RAMMEL. Before the incident at The Fort, Arnel and Ram had different connections to Richard.
Arnel, then a 29-year-old disc jockey for a radio station of TV5, did not know Richard or any of the Gutierrezes personally.
Ram, then a 26-year-old personal shopper for Rustan's, did. He also considered the twin celebrities, Richard and Raymond, his acquaintances because both were "clients" of Rustan's.
On the night of January 29, 2005, Arnel, Ram, and a lady friend—who, for "security reasons," has requested that her name not be mentioned—went to Bellissima Bar in The Fort, Bonifacio Global City, Taguig.
Not far from that bar is the now-defunct Embassy Club, where twins Richard and Raymond were celebrating their birthday.
According to the joint affidavit of Arnel and Ram: "At around 2:30 a.m. the next morning, Cruz, de Vera and the lady friend left Bellissima and headed to the parking lot and boarded Cruz's car, a white 3-door Mitsubishi Pajero.
"Upon exiting the parking lot fronting the NBC Tent, affiants Cruz and de Vera heard a loud and alarming sound coming from behind the Pajero.
"Affiant Cruz opened his window to check what happened. As he looked out the window, he saw several men rushing towards him shouting, 'Huwag niyong palabasin yan.'
"Without any provocation, affiant Cruz was greeted with blows from the respondents, principally Richard Gutierrez and Rocky Gutierrez, accompanied by the words, 'Putang ina mo, Birthday Boy sinapak mo!'
ADVERTISEMENT - CONTINUE READING BELOW
"Affiant de Vera, who was seated behind Cruz, saw the attack on Cruz and thus attempted to move Cruz's face away from the window to help his friend.
"When he partially succeeded, his face, too, became exposed to the blows coming through Cruz's car window.
"He called out to Richard Gutierrez whom he recognized as an actor. Instead of stopping, Richard Gutierrez's fists rained blows on de Vera's face, knocking him backwards and leaving his mouth and nose bloodied.
"As affiant de Vera withdrew to the back seat, Cruz's face again became the object of the respondents' ire. Punch after punch was thrown at Cruz's face, shoulder, and arm."
The Kapuso star and his brother Rocky were not alone.
According to the complaint-affidavit, several unidentified men joined in "inflicting as much harm on affiants Cruz and De Vera and to hit and damage Cruz's car."
The complaint-affidavit also said that the beating did not stop despite them saying several times, "Dude, you got the wrong guy!"
When Arnel stepped out of the car to ask for help, he found himself face to face with Rocky, who reportedly said: "I didn't punch you in the face, I punched you in the arm... Dude, we don't have to make this public, we don't have to ruin anyone's career."
DOCUMENTED INJURIES. The Medico Legal Report from the Makati Medical Center, which is Annex B of the complaint-affidavit, indicated the following injuries sustained by Arnel Cruz:
Lacerated wound, 1 cm, right supraorbital area
Hematoma, nasal
Hematoma, left maxillary area
Fracture at the tip of nasal bones.
The same Medico Legal Report indicated these injuries sustained by Ram de Vera:
Soft tissue injury, nasal area
Lacerated wound, .3 cm upper lip
Hematoma, upper lip.
Still according to the Medico Legal Report signed by Dr. Teresita Sanchez, the injuries of the two men were going to leave them "incapacitated" for a period of "not less than 31 days."
RICHARD AND ROCKY'S VERSION. The Joint Rejoinder-Affidavit submitted by the Gutierrez brothers last March 3, 2005, totally denied the allegations.
ADVERTISEMENT - CONTINUE READING BELOW
Richard's response stated: "On or about 2:00 a.m. of January 30, 2005, I noticed an unidentified male person sneak into my birthday party who was not my guest and I approached him and politely asked him to leave because the party is exclusive to my guests. However, the man suddenly punched me on my temple and dashed down the stairs of the Embassy Bar & Restaurant.
"I fell backwards and my elder brother Rocky rushed to me and asked me what happened. I told him that I was punched by an outsider who gate crashed the party.
"Some of my guests also rushed to me and asked me what happened. Then, they went down the stairs apparently to look for the outsider.
"Sometime later, I and my elder brother Rocky went down to see what happened outside. Thereafter, I noticed a commotion around a vehicle which we [spotted] on a dark portion of the road. As I was about to go to the scene of the incident to check on some of my guests, I was informed by my relatives and friends that the commotion was already over and it was nothing serious, hence, I went back inside the bar."
The eight-page legal document underscored that Richard and Rocky were not part of the group that attacked Arnel Cruz's car.
The Gutierrez brothers' Joint Rejoinder-Affidavit concluded: "It is obvious that the complaint of Arnel Cruz and Rammel de Vera is a tapestry of conjectures, speculations, surmises to incriminate us for acts which we have not done. In their failure to identify the culprits who allegedly punched them, complainants conveniently point to me, Richard Gutierrez, because I am easily identifiable since I was the host and celebrant of the birthday party and the several men who allegedly assaulted them came from the party. So it is with my brother Rocky who was nowhere at the scene of the crime, like me."
ADVERTISEMENT - CONTINUE READING BELOW