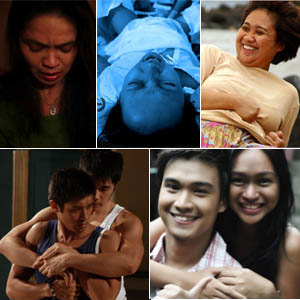 ---
Independent filmmaking has rapidly grown in the Philippines in the past seven years.
Thanks to the unwavering support of institutions such as the Cultural Center of the Philippines (CCP), Film Development Council of the Philippines, Ecolink Investments Inc., and the Cinemalaya Foundation, younger filmmakers have become more inspired to hone their craft while more and more Filipino audiences are introduced, and eventually get hooked, to the art.
This year, the Cinemalaya Philippine Independent Film Festival promises to be even bigger and better with more films in exhibition bearing stories of passion, memory, truth, despair, obsession, terror, and splendor.
Some of these films will be featured under new sections of the festival.
For the first time in Cinemalaya, Focus Asia which will feature films by various Asian directors from Korea, Thailand, Malaysia, Indonesia, China, Vietnam, Singapore, and Japan.
This was brought about by a clamor for more Asian indie films to be shown in the country, which was noted by festival director Nestor Jardin.
ADVERTISEMENT - CONTINUE READING BELOW
The Ronwaldo Reyes Retrospective, presented in cooperation with the Society of Filipino Archivists for Film, is another new section of the festival that will feature old works by some of the most celebrated filmmakers in the country.
On its first year, it will showcase some of the directorial works of the late King of Philippine Movies and National Artist Fernando Poe Jr.—whose pseudonym as a director was Ronwaldo Reyes.
The Cinemalaya Documentary section presented in cooperation with Calata Corp. will feature a number of documentaries showing the true face of Philippine society.
The NETPAC Philippine Premieres, which is another competition category, features eight films vying against each other.
The Ani Section will showcase some of the best Filipino indie films of the past year.
Kids Treats, as the name suggests, will feature indie films for children, while the films in the Midnight Specials section tackle more adult themes.
Apart from these new sections, Cinemalaya will also organize the Cinemalaya Film Congress with the theme "Building Bridges Across Asia Through Films," which will hopefully strengthen the independent filmmaking scene, not just in the Philippines but the entire region.
ADVERTISEMENT - CONTINUE READING BELOW
The Sine Taktakan forums will also be held within the festival with lectures and exhibits by the 2011 Cinemalaya filmmakers.
Furthermore, Cinemalaya prepares to accommodate a bigger number of audience through its additional venues in Cinemas 3 and 5 of Greenbelt 3 Mall in Makati.
The CCP will still host most of the screenings, including the grand opening ceremony which will be held on July 15 at 6 p.m., followed by the opening film screening at the CCP Main Theater.
The awards night, which will also be held at the CCP, will cap off the event on July 24, 7 p.m.
The three main categories of the Cinemalaya feature a total of 31 films, namely:
NEW BREED FULL LENGTH CATEGORY
Amok (Amok) by Lawrence Fajardo
Ang Babae sa Septic Tank (The Woman in the Septic Tank) by Marlon Rivera and Chris Martinez
Ang Sayaw ng Dalawang Kaliwang Paa (The Dance of Two Left Feet) by Alemberg Ang and Alvin Yapan
ADVERTISEMENT - CONTINUE READING BELOW
Bahay Bata (Baby Factory) by Eduardo W. Roy, Jr. and Jerome Zamora
Cuchera by Joseph Israel M. Laban
I-libings: Your Loss, Our Luck (E-funerals) by Rommel Andreo Sales
Ligo Na U, Lapit Na Me by Noel Ferrer, Jerry Gracio, and Erick Salud
Nino by Loy Arcenas
Teoriya (Father's Way) by Alistaire Christian E. Chan
DIRECTORS SHOWCASE CATEGORY
Bisperas (Eve) by Jeffrey Jeturian
Busong (Palawan Fate) by Auraeus Solito
Isda (Fable of the Fish) by Adolfo Alix Jr.
Patikul by Joel C. Lamangan.
SHORT FEATURE CATEGORY
Debut by Pamela Llanes Reyes
Every Other Time by Gino M. Santos
Hanapbuhay (Source of Living) by Henry Frejas
Hazard by Mikhail Red
Immanuel by Gabriel "Gio" Puyat
Nino Bonito by Rommel "Milo" Tolentino
Oliver's Apartment by Misha Balangue
Samarito (Samaritan) by Rafael L. Santos
Un Diutay Mundo (One Small World) by Ana Carlyn V. Lim
Walang Katapusang Kwarto (An Endless Room) by Emerson Reyes
ADVERTISEMENT - CONTINUE READING BELOW
Ticket price is at P150 per screening.
Discounted rates are available for students, senior citizens and Philippine government employees.
Special packages good for 1 day viewing, watch-all-you-can and other promo offers are also available.
For inquiries, contact the CCP Box Office at (02) 832-3704 and CCP Media Arts at (02) 832-1125 loc. 1204/1205 or visit the CPP website at www.culturalcenter.gov.ph and www.cinemalaya.org