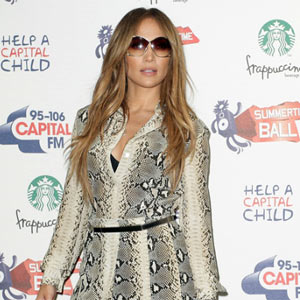 ---
Jennifer Lopez will "probably" watch the US version of The X Factor.
The 41-year-old singer—who is a judge on rival pop star search show American Idol—loves watching talent programs and thinks she will tune in when the series airs in September.
Speaking at the 95-106 Capital FM Summertime Ball at London's Wembley Stadium last night (June 12), she told BANG Showbiz: "You know what, I watch all those shows. I'm a big fan of those type of shows so I'll probably be watching."
The "On The Floor" hitmaker had kind words for Nicole Scherzinger—who will be a judge on The X Factor alongside Simon Cowell, L.A. Reid, and Paula Abdul—wishing her "the best" of luck for her new venture.
She said: "I just saw Nicole backstage. I gave her all my love and wished her the best, she says she's already started. She was supposed to be the host and now she's a judge and she's very excited about that."
ADVERTISEMENT - CONTINUE READING BELOW
Jennifer raises three-year-old twins Max and Emme with her husband Marc Anthony, and when she can she likes to have them with her when she is working on her various projects.
She said: "The secret to working with kids? I just try and keep them close all the time. They're here tonight. I travel with them when I can. I want to let them know how loved they are. Another child? Maybe, maybe."