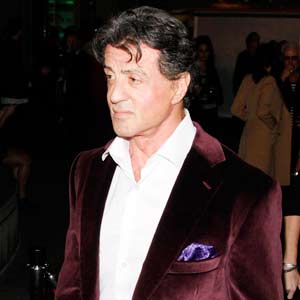 ---
Sylvester Stallone has been inducted into the International Boxing Hall of Fame.
The American actor—who is not a professional boxer—was honored for the contribution to the sport of his Rocky films, in which he plays a small-time fighter who gets a shot at the world heavyweight championship.
Sylvester told the New York ceremony: "I never pretended to be a boxer, but I have an understanding of what goes on outside the ring."
The 64-year-old actor has starred in six Rocky movies—the first of which was released in 1976 and saw Sylvester nominated for an Oscar for his performance—culminating in 2006 movie Rocky Balboa.
Mike Tyson was also inducted into the New York-based hall of fame, which features boxing legends Muhammad Ali, Joe Frazier, and Sugar Ray Robinson.
But Sylvester has recently moved away from the ring and has turned his hand to fashion designing.
He is set to create his own men's lifestyle brand entitled Sly Inc.—which will feature jeans, shirts, outwear and active wear, targeting men between 25 and 40 years old, to be launched next year.
He previously said: "I thought the time is now. I've lived a life where I know what has worked and what hasn't worked. Clothing is the first step to building a character."