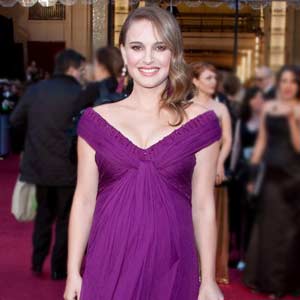 ---

Natalie Portman has become a mother for the first time.
The Oscar-winning actress—who is engaged to choreographer Benjamin Millepied—gave birth to a baby boy, although no further details have been released.
The couple met on the set of Black Swan and while they were thrilled at the news Natalie was expecting, she recently revealed they refused to buy any baby stuff until the tot arrived because of her Jewish upbringing.
She said: "I think it's a Jewish thing to be kind of superstitious. You don't do any of the baby stuff before the baby arrives."
However, one thing Natalie did do during her pregnancy was give up veganism.
The 30-year-old star became vegetarian when she was eight, and further eliminated all animal products from her diet in 2009, but re-introduced dairy to her diet since becoming pregnant.
She said: "I actually went back to being vegetarian when I became pregnant, just because I felt like I wanted that stuff.
"I was listening to my body to have eggs and dairy and that sort of stuff. I know there are people who do stay vegan, but I think you have to just be careful, watch your iron levels and your B12 levels and supplement those if there are things you might be low in your diet."
Throughout her pregnancy Natalie paid tribute to her parents Avner and Shelley Hershlag, saying she hoped to look after her child in the same way that she was brought up.
She said: "If I am a shadow as good a parent, an echo, then I will be the best in the world, so thank you."