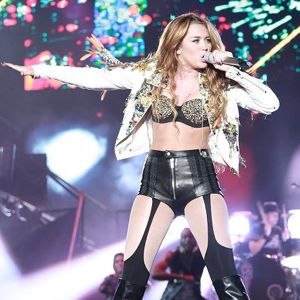 ---
It's true. Miley Cyrus has a new, raunchier image.
The 19-year-old international pop singer strutted onstage wearing a black shimmering bra topped by a white jacket, leather hot pants and sexy boots.
Fans shrieked with joy last night, June 17, at the SM Mall of Asia concert grounds, as Miley kicked off her one-night Gypsy Heart Tour with the song, "The Liberty Walk."
The crowd went wild when she performed her monster hit, "Party in the U.S.A."


She danced up a storm and the crowd—mostly young adolescents—danced along with her, most of them standing on their plastic chairs.
After a few songs, Miley took off her jacket to reveal her sexy bod.


She thanked her fans who came to the concert. "You guys are amazing!"
She noticed a couple of fans who made a poster dedicated to Miley's mother. "You know your fans are awesome when they make a [poster] for your mom," she gushed.
ADVERTISEMENT - CONTINUE READING BELOW


Miley did some headbanging while performing a medley of upbeat songs such as "Robot," "I Love Rock 'n' Roll" and "Cherry Bomb."


After a short break, Miley came back in a long-sleeved frock; she sang "Obsessed."


HOT SPOT. She commented on Manila's humid weather, saying: "This is definitely the hottest spot we've been on this tour."


She entertained the crowd with her rendition of "Forgiveness and Love." After changing into a bejewelled bra and leather pants, she crawled and writhed on stage as she sang "Scars."
Part of the lyrics go: "If I told you that I love you / But I'm doing alright without you / It'd be a lie / But I could try."


The American teen pop star said she had one goal that night: "I hope after this concert, you would be inspired to do what you want to do in your life. I hope you guys feel inspired."
ADVERTISEMENT - CONTINUE READING BELOW
After another break, Miley emerged wearing a violet corset, blue feathers on her shoulders and again, those leather hot pants. She performed with backup dancers who were in similar skimpy outfits.
Towards the end of the song, she surprised everyone by beating a giant drum onstage.


She left the stage and when she re-appeared, she performed the song, "Landslide" with a guitarist.
At around 10:15 p.m., Miley shouted "Peace!" and made the peace sign with her right hand, prompting the audience to follow suit.


ENCORE. She left the stage like it was the end of the concert. The crowd chanted: "We want more!"
Miley re-emerged wearing a figure-hugging and backless red dress and performed "See You Again," followed by "My Heart Beats for Love," and "Who Owns my Heart?"
For the grand finale, she sang,"The Climb" and the audience sang along with her.


Sam Concepcion and Elmo Magalona were the front act for Miley last night.
ADVERTISEMENT - CONTINUE READING BELOW


PEP spotted Kris Bernal and Jay Perillo at the concert. Kris said Jay treated her to the concert tickets. She also insisted that she is not in a relationship with Jay. For his part, the GMA-7 singer revealed he has been courting Kris for over a year now.


Ruffa Gutierrez brought along her kids Lorin and Venice to the watch the concert of the former Hannah Montana star.
Barbie Forteza was spotted with Joshua Dionisio and Bela Padilla. Sarah Lahbati and Rocco Nacino were also there, as well as Coleen Garcia, one of the stars of ABS-CBN's Good Vibes.