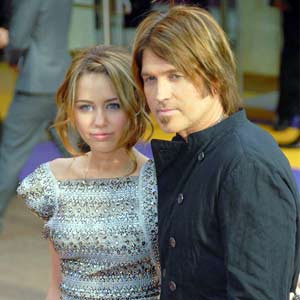 ---
Miley Cyrus' father thinks her boyfriend is "really great."
Billy Ray Cyrus is pleased his 18-year-old daughter has reunited with Liam Hemsworth—who she split from last November after 18 months of dating—and is looking forward to seeing the Australian actor in the forthcoming movie The Hunger Games.
He told E! Online: "He's a great guy. He's solid. He's got great character.
"Have you read that script? The script is killer, and Liam is going to knock it out of the park. He's a tremendous talent.
"And I have to tell you, on or off the record, he's just a good guy. He's just a really good guy. I really like him a lot."
Meanwhile, Miley—who is currently touring in Australia—has admitted she is nervous about performing in front of Liam's parents Leonie and Craig in Melbourne tomorrow (June 26) because of her raunchy stage costumes.
She told radio station 2DayFM: "I'm really nervous about it. I'm going to be right on front of them in my 'Can't Be Tamed' outfit. Oh my God.
"I hate it when people I know are right there in front of me in the audience."
Billy Ray is not the only member of Miley's family to praise Liam.
Her brother Trace recently said: "We're homies. I support my sister in anything she does.
"Everything is good. We're tight, so that's all the matters. Life is good, so I can't complain."