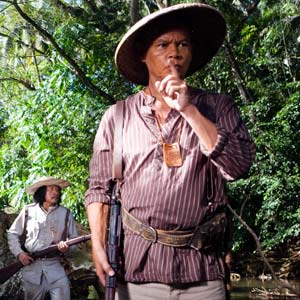 ---
Bembol Roco says the biggest challenge of working on Amigo, Oscar-nominated John Sayles' historically accurate tale of the forgotten Filipino-American war, is "working with a foreign director."
Although he already worked on a foreign film (The Year of Living Dangerously which starred Mel Gibson) he says Amigo is "still a new experience. It was not really difficult, it just doesn't happen all the time. It was exciting and I looked forward to doing the film and protraying my character."
He plays the role of Policarpio, a guerilla who fights against the Spanish and later on the Americans.
"For me, yes kaagad... exciting to work for an international indie film with this kind of theme and story."


Bembol, together with Joel Torre, met the director, writer, and editor of Amigo, John Sayles and producer Maggie Renzi to discuss the project.
Bembol observed that the American actors "really blended well with the Philippine cast and crew."
He says his favorite is Yul Vasquez, who portrays a Spanish priest.
"He was a cool dude, we got to talk about a lot of things, what he does [in the States] and what he likes."
Bembol seems to be all over the place these days. He's involved in a stage play that will run at the Cultural Center of the Philippines. He's shooting a movie under Star Cinema and an indie film for the 7th edition of Cinemalaya this July. He also appears in the afternoon primetime soap, Sisid, for GMA-7.
He dreams of a project "that will make use of a veteran or an older actor. Perhaps a movie on Alzheimer's disease because I'm taking care of my mother who has that.
"I think it's a very interesting story... someone taking care of an Alzheimer's patient and the intricacies of this relationship. Sana somebody gets interested in this kind of story."
ADVERTISEMENT - CONTINUE READING BELOW