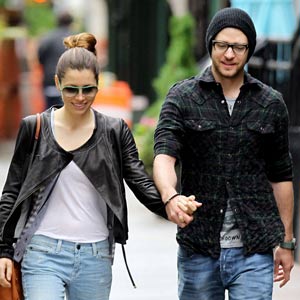 ---
Justin Timberlake and Jessica Biel are reportedly giving their relationship "another shot."
The couple broke up after four years together in March but are said to be reconciling because 30-year-old Justin—who has previously dated Britney Spears and Cameron Diaz—decided being single was not as good as he thought it would be.
A source told Usmagazine.com: "They've been quietly seeing each other again. They have been talking the whole time and decided to give it another shot. Jessica really wanted to get back together with him and Justin realised single life is not what it's cracked up to be."
The pair enjoyed a meal out at the Black Hoof restaurant in Toronto on Sunday (July 3), where they ate a plate of pork tacos.
The source added: "They're just spending time together and taking things slowly."
However, singer-and-actor Justin recently revealed he "enjoyed" meeting new women and doesn't look for any "particular" qualities in a partner.
He said: "I don't know that I'm looking for anything in particular.
"I think people are people and I enjoy meeting them. I don't know that there's a particular quality in a woman I would go for over any other.
"I think there's too much being made these days about being 'single' or 'not single'. There's too much drama about it when it really shouldn't be much of an issue at all.
"I'm just enjoying exploring my life right now and wherever that path ends up will be OK because that's where I'll have wanted it to end up."