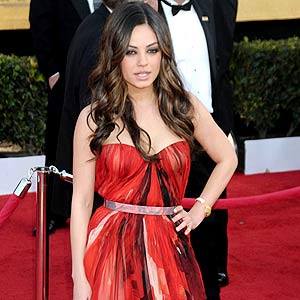 ---
Mila Kunis has agreed to go on a date with an American Marine.
The Friends With Benefits actress—who recently split from Macaulay Culkin after eight years of dating—was asked by Sgt. Scott Moore of the 3rd Battalion 2nd Marines to accompany him to the upcoming Marine Corps Ball in Greenville, North Carolina, on November 18.
Posting a YouTube message from his base in Musa Qala, Afghanistan, he said: "Hi Mila, I just want to take a moment out of my day to invite you to the Marine Corps Ball with yours truly. So take a second to think about it and get back to me. All right, bye now."
After being asked by Friends With Benefits co-star Justin Timberlake whether she was planning on taking him up on his offer, Mila told him: "I'll go, I'll do it for you. Are you going to come?"
Justin replied: "They don't want me! They want you. You need to do it for your country."
Mila confirmed to Fox News: "I'll do it!"
However, it's unlikely the 27-year-old beauty will be dancing with Scott, as after suffering a number of injuries while playing a professional ballerina in Black Swan, she vowed never to dance again.
She said: "I had never danced in my life. I trained for four months, seven days a week, five hours a day. I had one day off on my birthday. I lost 20 pounds. I tore a ligament. I dislocated my shoulder. I have two scars on my back. And it was worth every minute.
"But I will never dance again. I was like, 'Well—I wear heels; I can do this.' I was wrong. Christian Louboutins are uncomfortable, but I screamed the first time I put on a pointed shoe."