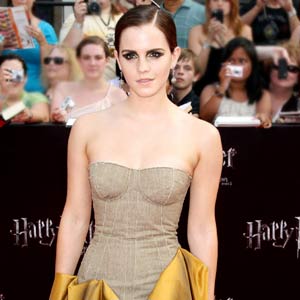 ---
Emma Watson partied at a pole-dancing club after the New York premiere of Harry Potter and the Deathly Hallows: Part 2 on Monday (July 11).
The British actress celebrated the end of the wizard movie franchise by going to a go-go bar on Monday where she danced the night away with pals before leaving at 2 a.m. the following day (July 12).
A source told The Sun newspaper: "She was really enjoying herself. There were a few scantily-clad girls around but Emma didn't bat an eyelid.
"There are a few poles in the club but she didn't have a go. After such a big night it's no wonder she wanted to let her hair down.
"She had a smile on her face the whole time before calling it a night around 2 a.m."
While Emma's Harry Potter co-star Daniel Radcliffe recently revealed he has given up alcohol after developing a dependence on it while filming the movie franchise, Emma, 21, admitted she has been drunk in the past but said her experiences were much different.
During an appearance on The Late Show with David Letterman, she said: "To be honest, it's really not something that I genuinely know much about. But as far as I know, he never took a sick day. He was like the most professional, amazing guy ever.
"I mean, yes, I have tried spirits! Of course, I've tried spirits. I mean, there are substances, whiskey.
"Yes, I have been drunk once in my life, as everyone does. I've got drunk, I've been drunk and I'll bow to that."