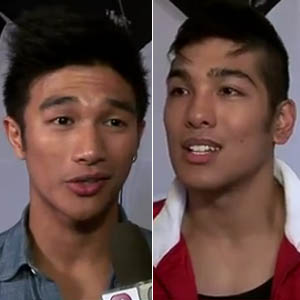 ---
Filipinos can dance.
Tadd Gadduang and Marco Germar, finalists of the U.S. reality dance program So You Think You Can Dance Season 8, qualified for the Top 5 male category.
Gadduang, 25, performs hip hop while Germar, 22, dances contemporary jazz. Although the two are presumed to become rivals at the finale, both maintain friendship.
The Utah-based Gadduang calls his craft "urban dancing."
Having danced since he was 15, his goal in this entire competition is to gain as much experience as he can.
Meanwhile, Germar, who hails from Guam but has since moved to Canoga Park, California, is quite the gymnast who can perform "tricks" that consist of flipping or jumping off tables and chairs.
Germar received nine years of training in hip hop and jazz, and has background in ballroom dancing, thanks to his mother who teaches the art.
It has been a "long, fun, and quick journey," Germar said in one interview, for the two Pinoy dancers so far. The finale for the Top four will be on August 11.
The other finalists are Caitlyn Lawson, Clarice Ordaz, Jess Le Protto, Jordan Casanova, Melanie Moore, Mitchell Kelly, Ricky Jaime, and Sasha Mallory.
So You Think You Can Dance is hosted by Cat Deeley, with Nigel Lythgoe and Mary Murphy as regular judges.