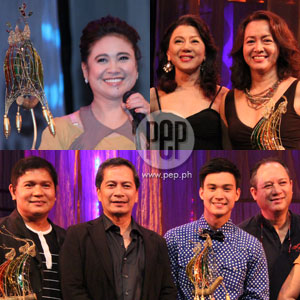 ---
The 7th Cinemalaya Independent Film Festival culminated its very successful run by handing out trophies at the awards night held earlier tonight, July 24, at the Main Theater of the Cultural Center of the Philippines (CCP).
Ang Babae Sa Septic Tank, which pokes fun at indie filmmaking, was the night's biggest winner; picking up four Balanghai trophies—Best Film, Best Director (Marlon Rivera), Best Screenplay (Chris Martinez), and Best Actress (Eugene Domingo)—and one certificate for Audience Choice Award.
Eugene is a favorite to win the Best Actress trophy.
"Kung hindi pa ako nakakain ng tae, hindi pa ako mananalo!" exclaimed the comedienne at the beginning of her acceptance speech, which she also delivered in English for international guests. In the film, Eugene was literally submerged into a septic tank.
Aside from thanking her co-stars in the movie, Eugene also acknowledged the members of Philippine Educational Theater Association (PETA) who were also part of the cast.
She also addressed the controversy at the beginning of the Cinemalaya where short-film director Rafa Santos was criticized for his remarks against theater actors (who would reportedly work for "Sky Flakes" and "catfood").
"Rafa... we forgive you. We are all united here," said Eugene to the young filmmaker who also attended the event.
Young actor Edgar Allan Guzman, on the other hand, was named Best Actor for his role in the sex-comedy Ligo Na U, Lapit Na Me.
Edgar Allan, who was under the weather, thanked his "love team" in the film, Mercedes Cabral, his girlfriend Johlan Veluz, his mother, and his manager Noel Ferrer.

Meanwhile, Niño, directed by Loy Arcenas, picked up four trophies in the New Breed category, including Special Jury Prize, Best Supporting Actress (Shamaine Buencamino), Best Supporting Actor (Art Acuna), and Best Production Design.
In the Directors' Showcase category, Jeffrey Jeturain's Bisperas picked up five awards, including Best Film, Best Actress for Racquel Villavicencio and Best Supporting Actress for Julia Clarete.
ADVERTISEMENT - CONTINUE READING BELOW
Aureaus Solito won Best Director for Busong, which was first exhibited at the Cannes International Film Festival earlier this year.
Bembol Roco was adjudged Best Actor for Isda while Jaime Pebangco was named Best Supporting Actor for Patikul.
The jury decided not to give trophies for Best Feature and Best Screenplay this year in the Directors' Showcase category.
In the Short Feature Film category, Walang Katapusang Kuwarto won Best Film and Best Screenplay for Emerson Reyes, who also directed the film.
Rommel Tolentino was named Best Director for Niño Bonito, while Hanap Buhay got the Special Jury Prize.
The 7th Cinemalaya Awards Night was hosted by Paolo Bediones and Angel Aquino.
Here is the complete list of winners:
New Breed (Full-Length) Category
Best Film - Ang Babae Sa Septic Tank
Best Director - Marlon Rivera (Ang Babae Sa Septic Tank)
Special Jury Prize: Niño
Best Actress - Eugene Domingo (Ang Babae Sa Septic Tank)
Best Actor - Edgar Allan Guzman (Ligo Na U, Lapit Na Me)
Best Supporting Actress - Shamaine Buencamino (Niño)
Best Supporting Actor - Art Acuña (Niño)
Best Screenplay - Chris Martinez (Ang Babae Sa Septic Tank)
Best Cinematography - Arvin Viola (Ang Sayaw ng Dalawang Kaliwang Paa)
Best Production Design - Laida Lim (Niño)
Best Editing - Lawrence Fajardo (Amok)
Best Original Music Score - Christine Muyco and Gemma Pamintuan (Ang Sayaw ng Dalawang Kaliwang Paa)
Best Sound - Mike Idioma (Amok)
Short Feature Film Category
Best Film - Walang Katapusang Kuwarto
Best Director - Rommel Tolentino (Niño Bonito)
Special Jury Prize - Hanap Buhay
Best Screenplay - Emerson Reyes (Walang Katapusang Kuwarto)
Directors' Showcase Category
Best Film - Bisperas
Best Director - Aureaus Solito (Busong)
Special Jury Prize - No winner
Best Actress - Raquel Villavicencio (Bisperas)
Best Actor - Bembol Roco (Isda)
ADVERTISEMENT - CONTINUE READING BELOW
Best Supporting Actress - Julia Clarete (Bisperas)
Best Supporting Actor - Jaime Pebangco (Patikul)
Best Screenplay: No winner
Best Cinematography - Roberto Yñiguez (Bisperas)
Best Production Design - Rodrigo Riccio (Bisperas)
Best Editing - Benjamin Tolentino (Isda)
Best Original Musical Score - Diwa de Leon (Busong)
Best Sound - Diwa de Leon (Busong)
Special Awards:
Best Film for Children - Patikul
NETPAC (Network of Promotion for Asian Cinema) Best Picture - Boundary
Audience Choice Award (New Breed / Full Length): Ang Babae Sa Septic Tank
Audience Choice Award (Short Film): Walang Katapusang Kuwarto
Audience Choice Award (Directors' Showcase): Patikul