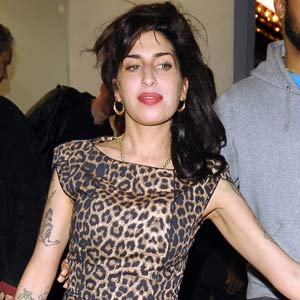 ---
Amy Winehouse is believed to have died from a mix of ecstasy and alcohol.
The tragic singer died at her home in North London last July 23 and although police have said it would be "inappropriate" to speculate before the post-mortem is carried out, friends believe a "dodgy" ecstasy tablet killed her.
A pal told the Sunday Mirror: "She has spent the last seven days on a massive bender and people were saying she's going to drink herself to death.
"It was an ecstasy overdose. She could do cocaine until the cows come home. But this was obviously a dodgy pill."
MTV producer Danny Panthaki claimed his friend's boyfriend was one of the first policemen at the scene and backed up the overdose story saying: "My friend's boyfriend is a policeman and he's the one who found Amy Winehouse dead. Overdosed on ecstasy."
Although police and ambulances reported to the scene within five minutes of the emergency call being made, the 27-year-old singer was dead when they arrived.
Superintendent Raj Kohli, of London's Metropolitan Police said: "No post mortem has taken place and it would be inappropriate to speculate on a cause of death.
"On arrival, officers found the body of a 27-year-old woman who was pronounced dead at the scene. Next of kin have been informed, and we can confirm it was Amy Winehouse. The death of any person is a sad time for friends and family, especially in the case of a person such as Amy Winehouse, who was known both nationally and internationally".
HEEARTBROKEN. Meanwhile, Amy's parents have spoken of their heartbreak over her death.
Although Janis and Mitch Winehouse knew their daughter was struggling with addiction, the news has taken them both by surprise.
Janis—who admitted thinking it was "only a matter of time" before her daughter died—explained about seeing the "Rehab" singer the day before her death: "She seemed out if it but her passing so suddenly still hasn't hit me. Amy always said 'I love you mum' when we would say goodbye. They are the words I will always treasure. I'm glad I saw her when I did."
ADVERTISEMENT - CONTINUE READING BELOW
Amy's devastated father Mitch—who was on a plane to New York to prepare for a performance in the city today (July 25) when news of his beloved daughter's demise was revealed—spoke of his heartbreak from the city before getting the first plane back to London.
He said: "This isn't real, I'm completely devastated. I'm getting the next plane back. I'm coming home. I have to be with Amy.
"I can't crack up for her sake. My family need me. I'm devastated, it's such a shock."
A statement today from her loved ones reveals the heartbreak they are battling.
The statement said: "Our family has been left bereft by the loss of Amy, a wonderful daughter, sister and niece. She leaves a gaping hole in our lives. We are coming together to remember her and we would appreciate some privacy and space at this terrible time."
Amy's family are not the only people struggling to cope with her loss. At his gig with The Faces in Hurtwood, Surrey, South East England last night, Absolute Radio DJ Ronnie Wood dedicated his performance of 'I Would Rather Go Blind' to the tragic 27-year-old singer.
He said: "It is a very sad loss, of a very good friend, I spent great times with, she was such a beautiful singer, it is such a waste."
Queen's Roger Taylor was in the crowd to watch the show and as he took to the stage he said "Tonight is about Amy, we lost a very special girl and we are going to pay tribute to her."
Amy is survived by her father Mitch, mother Janis and brother Alex.
AMY'S EX-HUSBAND. The mother of Amy Winehouse's ex-husband, Blake Fielder-Civil, is terrified her son will "kill himself" over her death.
ADVERTISEMENT - CONTINUE READING BELOW
Georgette Fielder-Civil—whose son was divorced from Amy in 2009 after two years of marriage—is worried that Blake, who is currently serving 32 months in prison for burglary and possession of an imitation firearm, will self-harm while in jail when he hears about the singer's demise from a suspected overdose last July 23.
She told the Daily Star Sunday: "I can't believe it. I could cry.
"Blake will kill himself. He won't make it without her. He will be devastated, totally and utterly devastated. He'll go straight back to self-harming. I'll have to ring the prison and he'll have to be put on watch.
"He was always ringing her and she was always ringing him. Blake always wanted her back. She couldn't walk away from him and he couldn't walk away from her. Her and Blake were both lost and we handled it badly."
Meanwhile, it is believed Amy's post-mortem will not take place before July 25.
Although it had been suggested her funeral would be held July 24, in keeping with Jewish tradition, a statement from London's Metropolitan Police has ruled this out.
The statement said: "Death of Amy Winehouse—a date and time for the post-mortem will not be scheduled before Monday morning."