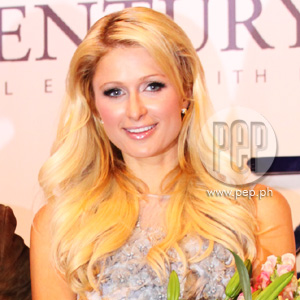 ---
"I'm having the most wonderful time here in the Philippines."
This was how Paris Hilton greeted the local press during the media junket prepared for her by Century Properties earlier today, August 17, at The Peninsula Manila in Makati City.
The Hollywood celebrity, who arrived in Manila last Sunday night, August 14, further said, "Everyone has been so welcoming and wonderful. And you know what, I'm having the most fantastic time."
The hotel heiress is on a five-day visit in the country for her collaboration with the local real estate company. She will help with the design of Azure Urban Resort Residence's Beach Club located in the south of Metro Manila.
According to Paris, the country's beaches attracted her to accept the project and visit the Philippines.
She stated, "I was excited about going to the Philippines because the beaches here are so incredible.
"And that's how excited I was with this idea, it was like, how cool is it in the middle of the city to have a man-made beach that is so beautiful.
"It is so breathtaking that I wanna live there. If I would live in the Philippines, I would definitely live in Azure."
Since Paris has been all over the world, she said that her contribution to the design of the Beach Club will be inspired by the world's famous beaches she already visited.
She related, "I travel around the world so I'm very inspired from everywhere I've been.
"I've been to the most beautiful resorts and hotels and beach clubs all over the world.
ADVERTISEMENT - CONTINUE READING BELOW
"So, when people go to the Beach Club of Azure, they'll already know that it's designed by me—it's gonnna be very Paris, sexy, and beautiful.
"It's gonna be the best beach club."
PROUD MOMENTS. The 30-year-old American socialite-model also mentioned her developing interest in real estate, where her great grandfather Conrad Hilton is widely known as the founder of Hilton Hotels.
"Real estate is something that I really wanted to give all my time. That's why this project is so important to me," she stated.
So, when asked about her biggest achievements, Paris cited this project because, she said, it is her way of continuing the legacy that her great grandfather started.
She related, "I have many proud moments in my life. I've worked very hard for my amazing business.
"I have some proud moments releasing album to writing books to movies. I've really done it all.
"But this is probably the one thing that I am most proud about especially my great grandfather started a hotel chain.
"I'm continuing his legacy, and that's what I'm doing now. I really feel so proud."
The model-actress also shared how this move made her grandfather, William Barron Hilton, proud.
"My grandfather called me a couple of days ago and he found out I'm in the Philippines and heard about this project.
"He said, 'I'm so proud of you. You're my only granddaughter who achieved so much success. And to see you're now on real estate is just so amazing.'
ADVERTISEMENT - CONTINUE READING BELOW
"It just made me feel to get that call from my grandfather because I really look up to him as a businessman."
WORK TOWARDS YOUR DREAMS. Aside from being a celebrity, Paris is also known for carrying several product lines including shoes, perfume, bags, purses, etc.
On the other hand, just like most celebrities, Paris has also been the subject of several controversies in the past.
But this did not stop her from continuing what she loves to do.
This was exactly the message that she left for the Filipinos who want to pursue their passion in life.
The star of The Simple Life said, "It is all about believing in yourself, being confident, and working towards your dreams.
"And never let anyone hold you back.
"No matter what people say, always believe in yourself that you can do it.
"And believe that when you're a good person, a good karma will come into your life."
Before the press conference ended, Paris hinted that she will be coming back to the Philippines for the opening of the real estate property.
"I'm so excited for the big opening party. It's gonna be the best party so, hope to see you all there."