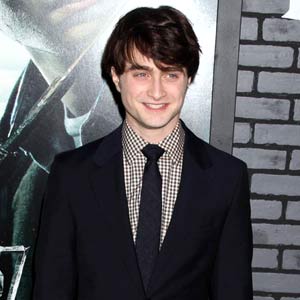 ---
Daniel Radcliffe is dating a painter and decorator's daughter.
The Harry Potter actor has been linked to a string of girls in the past, but he has quietly been romancing production assistant Rosanne Coker for the past year after meeting her on the set of Harry Potter and the Half Blood Prince in 2007.
Her father Malcolm—who runs his own painting business—said he was thrilled with the romance because Daniel is a "lovely" guy.
He told the Daily Mail newspaper: "I don't want to say too much really as they would really prefer to keep things quiet.
"But Rosanne has worked on the last three Harry Potter films, so she and Daniel have known each other quite a long time. But they have been going out for just over a year now.
"I have met Daniel and he is a lovely guy. I'm just really happy for Rosanne and as long as she is happy that is all that matters to me."
Malcolm says Daniel treats his 22-year-old daughter with the utmost respect and he thinks he is great for her, but he isn't sure where their romance is going.
He said: "No other parent would ask any more. I know it's not a normal life they live. But they have a lot of fun together and at their age, what more could you ask?
"Who knows where it is going to lead? She still lives over here in London and he is in New York a lot, but she wants to make sure that she continues her career and wants to achieve everything she set out to do."
ADVERTISEMENT - CONTINUE READING BELOW
Daniel, 22, previously dated Irish actress Laura O'Toole and was recently linked to Olive Uniacke.