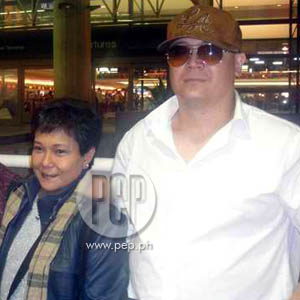 ---
"I'm not a saint, you know... but neither am I a devil."
This is what John Rendez said in reaction to what he called "negative" things hurled against him as a result of his long-time association with Superstar Nora Aunor.
Through Nora's personal manager, Boy Palma, John met with PEP.ph (Philippine Entertainment Portal) and other select members of the press yesterday, August 30, at the lobby coffee shop of the Excelsior Condominium in Eastwood, Quezon City.
Speaking both English and Tagalog in his characteristic Fil-Am twang, John, who turned 40 last January 6, freely answered some of the issues that have put him in bad a light.
He believes that his "friendship" with Nora has been greatly misunderstood by a lot of people, including the local showbiz press.
"Mahirap maging friend ni Ate Guy because... Kahit sino siguro ang nando'n [in my place], bibigyan nila ng [maling interpretation]. I cannot be myself I'd like to.
"But I'm a man. I like to drink. Sometimes, I [crack] dirty jokes," said John.
Veteran columnist Chit Ramos, John's new manager, jokingly referred to a once popular song composition in describing her ward as a "maginoong medyo bastos."
John, however, countered in a child-like manner, "Hindi ako santo, pero puwede rin ako maging anghel.
"Or, maybe, I'm an angel," he smiled.
WHO IS JOHN RENDEZ? Kidding aside, John revealed the many serious sides of his character, which at times needed a bit rendering or control.
"I'm not a bad guy, I don't take advantage of people," he said.
ADVERTISEMENT - CONTINUE READING BELOW
"Being Nora Aunor's friend has its benefits, has its privileges [but] I don't take advantage of those...
"Sometimes, the people talk about you negatively, double time.
"Sometimes, they gonna react negatively, too... Di ba, ikaw ang pinakamasama sa buong mundo?
"Sometimes, there's a reason for... if they see me react negatively to what they just know already.
"I react to that kasi ano, e, sensitive akong tao, e. [Otherwise], I wouldn't be real. I wouldn't be me.
"I'm not the most important person in the world [but] I have rights too, you know, [to be] treated with more respect.
"I've been put down so long and I've never ever sat down with anyone and talked about it.
"And you, guys, know that. A lot of people disliked me.
"They do not just know me. They just hear from some people and they provide an opinion.
"And sometimes they gang up on me. Umpisa pa lang, talo na ako, e.
"Kasi these are people who are supposed to be responsible, supposed to be in positions of power."
"Everyone is attacking me... Cristy Fermin is attacking me. Lala Aunor is attacking me," mentioned John.
What about Nora's first cousin, Lala Aunor's attacks?
"Na mayabang ako, abusado ako... I've got criminal cases for drugs, for guns, and for everything... See?
"[To her] I'm the bad guy!
"Imagine, Lala is the one advising Ate Guy, saying, 'We'll have a lawyer taking care of that case for you...'"
ADVERTISEMENT - CONTINUE READING BELOW
By that, John was referring to the unfortunate incident in Japan when Nora underwent cosmetic surgery/enhancement early last year, and in the process, damaged her voice.
RENEWED FRIENDSHIP. On a rather positive note, John has long renewed his friendly ties with Nora's son, Ian de Leon.
"Me and Ian are [like] brothers," he said.
What about Lotlot and Matet de Leon, Nora's daughters who were reported to have had some falling out with him?
"Well, I don't know about Lotlot and Matet. Those kids [including Nora's other adopted siblings, Kiko and Kenneth] I love.
"I have happy memories of them."
Of Ian, John further said, "I'm older than Ian. He's more bagets than me.
"I try to be bagets too. Trying hard!" he smiled.
"I love these guys [Nora's children]. They're family to me."
John admitted he's also got a family of his own, but has since separated from his wife.
They have a 12-year old daughter, now under the care of his "mom" (maternal grandmother) in John's birthplace in Angeles City, Pampanga.
"I'm not her [Nora's] boyfriend," John stated.
"She's like my mom, she's like a sister, all together as one.
"But if someone will say something bad to her, I'll be the first one to make sapak them in the mukha.
"Masira man ako o hindi, wala akong pakialam. Ako ang unang mananapak, hindi ako mapipigilan!"
NEW CAREER PROSPECTS. John used to be disco DJ (disc jockey) and rap artist until he was discovered for the movies by director Elwood Perez.
ADVERTISEMENT - CONTINUE READING BELOW
He was cast in a major support role, as Lotlot de Leon's leading man for the Nora Aunor-starrer Ang Totoong Buhay ni Pacita M., a 1991 Metro Manila Filmfest entry
He also recorded a debut rap album titled Metal Dog, which John said he wanted re-recorded.
"I was talking to a record producer, who was introduced to me by Ate Suzette Ranillo [Nora's business manager].
"We're working on things right now, maybe finalize it."
He was encouraged by the positive feedback on the album.
"Sayang daw, kasi magaling ako," John said.
"But nawalan ako ng gana mag-rap.
"I was ahead of my time [in early '90s] but I stopped. And I'm gonna catch up now.
"That's life..."
On his return to the country, John was also offered one of the major support roles in El Presidente, directed by Tikoy Aguiluz, the supposed comeback movie project for Nora, who's paired opposite Laguna Governor Jorge "ER" Ejercito in the role of Gen. Emilio Aguinaldo.
Nora has finished all her scenes with the actor-politician before working full-time for the TV5 mini-series Sa Ngalan ng Ina, directed by Mario O'Hara.
Direk Mario, too, has good words about John having directed the actor in a full-length "indie-like" feature film, Sindak (2000).
As to his latest project with Direk Tikoy and Gov. ER, John hasn't started shooting his scenes yet.
"I'll be playing [an American military officer; one of the generals during Aguinaldo's time]," he informed.
"Am still waiting for their call.
ADVERTISEMENT - CONTINUE READING BELOW
"Governor ER is a good friend. He's with me in my [unfinished] movie, Alyas John Doe...
"I still owe him [in talent fees], may utang pa nga ako sa kanya, e."
Otherwise, John said, "I'll be honest with you, I'm taking everything as it comes.
"I don't really have any plans, don't have any goals, you know.
"I don't really have any intentions to be hot or anything.
"Basing on all the things I have done, I won't give you anything to build myself up; that I'm the biggest and that I wanna be there [at the top of the game].
"I am only what I am.
"And if I have any project, that's the only time I can prove to you what kind of artist I am."