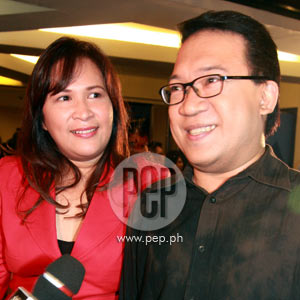 ---
Stars came out for the premiere of the much talked about comedy movie Zombadings 1: Patayin sa Shokot si Remington last night August 30, at SM Megamall Cinemas 9 and 10.
Director Jade Castro in a short speech before the screening especially thanked Roderick Paulate for running off from an actual TV shoot just to be part of the premiere.
PEP's Scoopbox reported that the celebrities present during the premiere night were Marian Rivera, Dingdong Dantes, Dennis Trillo, Joey Marquez, Ricky Davao, Megan Young, AJ Dee, Arnell Ignacio, Karen delos Reyes, and Christine Bersola with husband Julius Babao.
Regal matriarch Mother Lily Monteverde was also spotted at the event along with TV5 executive Perci Intalan.
Directors Joyce Bernal, Maryo J. de los Reyes, and Jun Lana also showed their support for this indie film that was previously screeened as the closing film of Cinemalaya 2011.
For the cast members and especially the producers, the film has a message to convey while being hilariously funny.
In fact, Zombadings has been graded A by the Cinema Evaluation Board.
The story is about Remington (Martin Escudero) who as a five-year old constantly points to homosexuals and calls them "Bakla! Bakla! Bakla!"
He does this everywhere he goes on the street, shops, etc.
Until one day, he pesters Pops Ricafuerte (Roderick Paulate) who curses him to become a homosexual when he comes of age.
IMPRESSIVE CAST. The film has an impressive cast that includes Janice de Belen, Eugene Domingo, John Regala, Mailes Kanapi, Kerbie Zamora, Daniel Fernando, Leandro Baldemor, Odette Khan and Ward Luarcas.
ADVERTISEMENT - CONTINUE READING BELOW
There are also cameo appearances by Marian Rivera and Bayani Agbayani. (CLICK HERE to read PEP's review of Zombadings.)
Roderick Paulate explained what he learned from the film.
"Zombadings is very funny. But at the same time, you're laughing because there's a valuable lesson there.
"There's a huge difference between laughing at someone and laughing with someone, alam mo yon?"
The film makes a statement about our culture, according to him.
"Tayong mga Pinoy kasi, we'd like to think we're open to homosexuality. What the film says is that we still have a long way to go.
"Name calling can be hurtful both to the one bullied and the person saying it.
"The lessons of tolerance and respect for all are important especially for parents to teach their kids."
Roderick is cast as Manny in the GMA-7 primtime series Munting Heredera. In spite of his hectic shooting schedule he made sure to make the film and be there for the premiere.
"I believe the story is worth telling that's why I really took time off from TV work.
"Both Jade Castro and Raymond Lee are respected filmmakers. Lalo nandiyan pa si Janice and Uge [Eugene Domingo] kaya go na go na 'ko sa project.
"And I was also glad that moviegoers enjoyed themselves a lot. Mukhang hit talaga 'to sa tao," he said.
Janice de Belen plays Remington's mom Fe who also happens to be a cop.
Women are cast as strong characters, too. Odette Khan is a no-nonsense mayor dressed in barong Tagalog.
ADVERTISEMENT - CONTINUE READING BELOW
When first approached for the strong role as cop, Janice joked, "Medyo weird, are you sure it's me and not Gelli that you want for the role? Mas swak siya dun."
Her sister Gelli de Belen is known as the combative, tomboyish type.
Janice said it was a new experience working with Jade Castro.
"It's the first time that I've worked with younger filmmakers and they do things differently.
"What matters is the outcome and I was pleasantly surprised."
Janice also had her own views on the lessons of the film.
"We should never discriminate. I think people fear things they don't know and understand.
"So things that you do, mumultohin ka. Whatever it is you do in life at some point it will haunt you.
"The bullying is what haunted Remington."