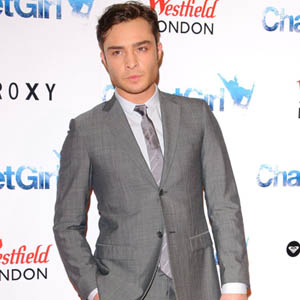 ---

Ed Westwick once pretended to be in the army to pick up a girl.
The Gossip Girl star admitted he had trouble attracting the opposite sex before he became famous and had to resort to desperate measures, although they didn't always work.
He told Australia's 2Day FM radio's Kyle and Jackie O Show: "I told one girl I was in the army, I pulled the serviceman thing. Before my Gossip Girl days.
"It didn't work, I got thrown back. I should have had the uniform, it would have made things very different."
Ed's Gossip Girl co-star Blake Lively is currently dating Leonardo DiCaprio, who he recently worked with on Clint Eastwood's new movie J. Edgar, and the 24-year-old star joked their relationship will only last if he doesn't "put the moves" on either of them.
Asked if the couple will last, Ed quipped: "Yeah, maybe, who knows, depends if I choose to put the moves on either one of them.
ADVERTISEMENT - CONTINUE READING BELOW
"I did just work with him recently. I had a role in Clint Eastwood's new movie J. Edgar with him.
"I play a young FBI agent so I'm really looking forward to that."