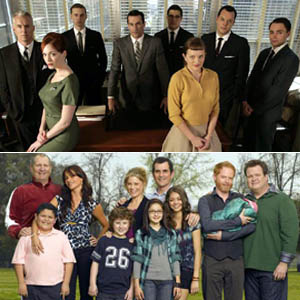 ---
Mad Men picked up its fourth consecutive Best Drama Series trophy and Modern Family its second Best Comedy Series at the 63rd Primetime Emmy Awards.
The annual awards ceremony was held Sunday evening, September 18, at the Nokia Theatre in Los Angeles.
In the comedy series category, Jim Parsons won his second consecutive Best Actor award for The Big Bang Theory, while Melissa McCarthy won her first for Mike & Molly.
Modern Family's Ty Burrell and Julie Bowen won supporting acting honors.
In the drama series category, both Kyle Chandler and Julianna Margulies picked up their first Emmys for their lead roles in Friday Night Lights and The Good Wife, respectively.
The supporting acting winners are also first-timers: Peter Dinklage for Game of Thrones and Margo Martindale for Justified.
In the miniseries or TV movie category, Downton Abbey won four awards, including Best Miniseries or Movie, Best Supporting Actress for Maggie Smith, Best Directing, and Best Writing.
Kate Winslet was named Best Actress for her performance in Mildred Pierce, while her co-star Guy Pearce won Best Supporting Actor.
Barry Pepper won Best Actor for The Kennedys.
Here is the complete list of winners in the 63rd Primetime Emmy Awards:
Outstanding Comedy Series: Modern Family
Outstanding Lead Actress, Comedy: Melissa McCarthy (Mike & Molly)
Outstanding Lead Actor, Comedy Series: Jim Parsons, The Big Bang Theory
Outstanding Supporting Actress, Comedy: Julie Bowen (Modern Family)
Outstanding Supporting Actor, Comedy: Ty Burrell (Modern Family)
Outstanding Director, Comedy: Michael Alan Spiller ("Halloween," Modern Family)
Outstanding Writing for a Comedy Series: Steve Levitan, Jeffrey Richman ("Caught in the Act," Modern Family)
Outstanding Drama Series: Mad Men
Outstanding Lead Actor, Drama: Kyle Chandler, Friday Night Lights
Outstanding Lead Actress, Drama: Julianna Margulies, The Good Wife
Outstanding Supporting Actor, Drama: Peter Dinklage, Game of Thrones
Outstanding Supporting Actress, Drama: Margo Martindale, Justified
ADVERTISEMENT - CONTINUE READING BELOW
Outstanding Directing, Drama: Martin Scorsese, Boardwalk Empire
Outstanding Writing, Drama Series: Jason Katims, Friday Night Lights
Outstanding Miniseries or Movie: Downton Abbey
Outstanding Actress, Miniseries or Movie: Kate Winslet, Mildred Pierce
Outstanding Lead Actor in a Miniseries or Movie: Barry Pepper, The Kennedys
Outstanding Supporting Actress, Miniseries or Movie: Maggie Smith, Downton Abbey
Outstanding Supporting Actor in a Miniseries or Movie: Guy Pearce, Mildred Pierce
Outstanding Directing for a Miniseries, Movie or Dramatic Special: Brian Percival, Downton Abbey
Outstanding Writing for a Miniseries or Movie: Julian Fellowes, Downton Abbey
Outstanding Variety, Music or Comedy Series: The Daily Show with Jon Stewart
Outstanding Directing for a Variety, Music or Comedy Series: Don Roy King, Saturday Night Live (host: Justin Timberlake)
Outstanding Writing for a Variety, Music or Comedy Series: The Daily Show with Jon Stewart
Outstanding Reality Competition: The Amazing Race