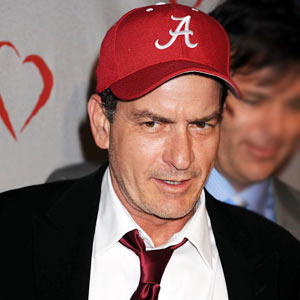 ---

Charlie Sheen wished his former Two and a Half Men castmates "the best" for their new series at the Primetime Emmy Awards.
The actor—who was fired from the show earlier this year following his erratic behavior, which saw Ashton Kutcher brought in as his replacement—issued a heartfelt message to his ex-colleagues in front of the crowd at the ceremony at Los Angeles's Nokia Theatre on Sunday night (September 18).
Charlie—who presented an award for the Outstanding Actor in a Comedy Series, which he called his "old category"—announced: "I want to take a moment to get something off my chest and say a few words to everybody here from Two and a Half Men.
"From the bottom of my heart I wish you nothing but the best for this upcoming season. We spent eight wonderful years together... and I know you will continue to make great television."
Earlier in the night, the 46-year-old actor's former co-star Jon Cryer revealed he has "converted" to be a fan of Charlie's replacement because he's "totally different."
Speaking to Ryan Seacrest at the ceremony, he said: "I'm already converted to the cult of Ashton. I like him. He's younger, taller— it's a totally different thing."
While presenting the Outstanding Supporting Actress and Best Writing in a Drama Series with Jon, Ashton joked: "I am not Charlie Sheen. And Jon, I want to tell you something. I do not think you are a troll."