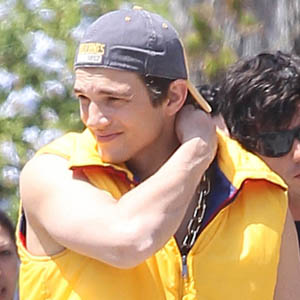 ---

Ashton Kutcher's Two and a Half Men debut set a ratings record for the show.
The first episode of the sitcom's ninth series—in which Ashton has replaced sacked Charlie Sheen—got 27.7 million viewers, more than double the number who watched the first episode of season eight in 2010.
The show introduced Ashton's billionaire character Walden Schmidt.
The show saw Walden establishing a friendship with Charlie's character's brother, Alan Harper (Jon Cryer) and deciding to buy the departed star's house.
It was also explained that Charlie's alter ego died after being hit by a Paris subway train.
While Charlie's firing from the show initially led to some bitter public outbursts, he has since wished Ashton well and made a public apology to his former cast mates.
Speaking at the Emmy Awards on Sunday (September 18), he said: "I want to take a moment to get something off my chest and say a few words to everybody here from Two and a Half Men.
"From the bottom of my heart, I wish you nothing but the best for this upcoming season. We spent eight wonderful years together, and I know you will continue to make great television."
It has also been reported that the actor—who launched a multi-million dollar legal battle with the show's makers, Warner Brothers, over his sacking—has settled with them for $100 million, in wages and syndication profits.
GETTING NAKED. Ashton spends the majority of his Two and a Half Men debut naked.
In his first episode, the actor's billionaire character Walden Schmidt attempts to commit suicide in the ocean after his wife dumps him.
However, he fails to take his own life and instead winds up on the deck of the Malibu home of Alan Harper—played by Jon Cryer.
ADVERTISEMENT - CONTINUE READING BELOW
Alan is so shocked when he sees the billionaire standing by the window that he drops an urn carrying the remains of his brother Charlie Harper— portrayed by fired star Charlie Sheen—all over the floor.
After a short time, Alan and Walden bond over women who have dumped them throughout their lives and decide to go out for a few drinks to toast their newfound friendship.
While the pair pick up a couple of ladies at the local bar and end up taking them back to the house, Walden eventually beds both of them leaving Alan on his own. The wealthy character then announces he is buying the house.
This comes after it is revealed Charlie's alter-ego died after being hit by a Paris subway train shortly after admitting to his new wife Rose—played by Melanie Lynskey—that he cheated on her.
Rose tells the congregation at his funeral: "I forgave him because I loved him unconditionally, so you can imagine my horror when the very next day he slipped on the metro platform and fell in front of an oncoming train. I just want you to know that Charlie didn't suffer. His body just exploded like a balloon full of meat."