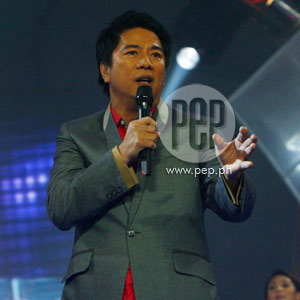 ---
ABS-CBN has filed another case against its former TV host, Willie Revillame.
Revillame now faces falsification charges for allegedly faking his signature on the P426-million bond he presented to Judge Luisito Cortez of Quezon City Regional Trial Court in 2010.
A national daily reported in a news item today, September 23, that ABS-CBN chief legal counsel Maximilian Uy has likewise pressed charges against lawyer Romeo Monfort and Asia Insurance (Philippines) Corp. vice-president Reynaldo Fong, who Uy claimed had participated in notarizing Revillame's signature on the aforementioned bond.
To support his allegation, Uy submitted to the Quezon City Prosecutor's Office a sample signature of Revillame's contained in other court documents which Uy claimed is different from the controversial TV host's signature on the bond.
In the affidavit filed on Wednesday, September 21, Uy said he was familiar with Revillame's signature as the former handled documents the TV host had addressed to ABS-CBN.
None of the purported signatures on the bond appear to be "even remotely similar" to the signatures on the other documents, Uy added.
Back in 2010, the network giant had requested the court to issue a temporary restraining order against Revillame who transferred to TV5 to eventually launch his primetime show, Willing Willie.
ABS-CBN filed a P426-million damage suit against Revillame for breaching his contract.
Eventually, the court ordered Revillame to pay back the P426-million bond.
According to ABS-CBN, it has endured damages amounting to P1,707,670,587.84 each week since November 2010 due to Revillame's violation of his contract which expires in 2012.