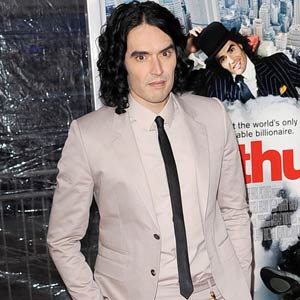 ---

Russell Brand was refused entry to Canada at the weekend.
The comedian-and-actor—who has a history of drug use and has been arrested 12 times for offenses ranging from criminal damage to indecent exposure—was stopped from entering the country when he went to Orilla, Ontario, for his show on Saturday (October 1).
The 36-year-old first wrote on his twitter page: "HELP! I'm gonna be late for Casino Rama show unless someone can force Canadian customs officials to let us land in Orillia. (sic)"
A little later, as his plight became more desperate, he added: "Let me in! I must perform at Casino Rama, Orillia tonight at 9 for 5000 Canadians! (sic)"
After being given the final word from border guards that he would not be let into the country, he tweeted: "I'm sorry. I can't enter Canada. We must abolish the borders between our nations AND our minds."
The reasons for his exclusion from the North American country are not known, although this isn't the first time Russell has had trouble getting past border control, as he was also refused entry to Japan in May because of his criminal record.
Russell had flown to the Asian country with his wife, Katy Perry, who was touring there at the time, and was left distraught when he wasn't allowed to accompany her into the countryt.
She tweeted: "So...my husband just got deported from Japan. I am so sad. I brought him all this way to show him my favorite place. tokyodreamscrushed
"But of COURSE I heart my Japanese fans & the show #MUSTGOONno matter the daily aftershocks or husband kidnappings! it'snotrightbutit'sokay"
Russell's show in Orilla will be rescheduled for a later date.