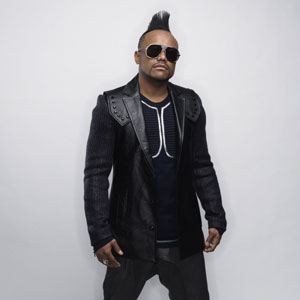 ---
Allan Pineda Lindo, Jr.—more popularly known as apl.de.ap—the Fil-American member of the multi-Grammy Award-winning hip-hop group Black Eyed Peas, was appointed as the special ambassador for education of the the iamninoy-iamcory movement—a youth empowerment program of the Ninoy and Cory Aquino Foundation (NCAF).
Last Saturday, October 15, apl.de.ap talked about his educational advocacy campaign, "We Can Be Anything," at the Grand Sunset Pavilion of the Hotel Sofitel Philippine Plaza.
"We Can Be Anything" will be formally launched during the Black Eyed Peas' Manila concert at the SM Mall of Asia Concert Grounds on the 25th of October, Tuesday.
The civic-minded multimedia sensation apparently has a very soft spot for his less privileged countrymen, and has always been a staunch advocate of education.
"Well, you know, I've been very blessed with a family and most especially with my education.
"So, you know, I wanna give back to the children of my own country, you know, which is the Philippines.
ADVERTISEMENT - CONTINUE READING BELOW
"I want these Filipino kids to live their dreams, just like I did with mine," he said.
In conjunction with his campaign, the Fil-Am rapper also composed an upbeat song, "We Can Be Anything," released recently by MCA Music.
The song's music video was screened during the press conference held at the Grand Sunset Pavilion.
What inspired him to compose "We Can Be Anything?"
"You know, I thought about every youth out there, who wanna be someone in their future.
"I believe they really could be someone, if, you know, they have proper education," said apl.de.ap.
How important is education to him?
"Well, I came to the States, to strive hard for my family and for my future, you know.
"And I know I would not have gotten this far were it not for an education.
"You know, there are a lot of children out there, who are hungry for education.
ADVERTISEMENT - CONTINUE READING BELOW
"That's why I supported this foundation, in a way, you know, I am a proud Pinoy, so I am very much happy to help them."
"We Can Be Anything" sums up the real message of apl.de.ap for the youth: "With an education, we can be anything!"